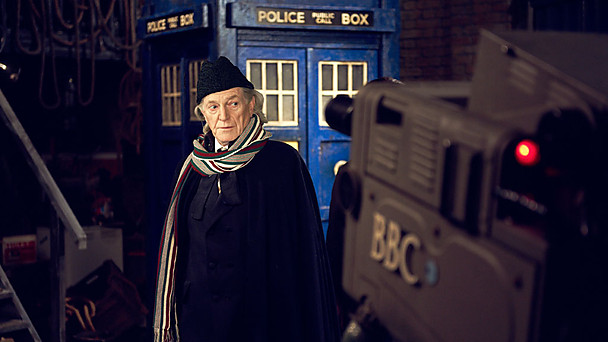 So here it is, the first official pic of David Bradley as William Hartnell in full Doctor costume for the Mark Gatiss biodrama, An Adventure In Space And Time. And mighty fine he looks too.
Speaking about David's take on an iconic screen role, Mark said, in a press release: "David Bradley brings every ounce of his talent, humour and presence to the role of William Hartnell. It's a wonderfully touching and subtle performance and I'm immensely proud of both him and the film."
An Adventure In Space And Time features several Doctor Who alumni among its cast. David himself played the dastardly Solomon in 'Dinosaurs On A Spaceship, and there's Call The Midwife star Jessica Raine, playing Who producer Verity Lambert. She was, of course, Emma Grayling in 'Hide.'
Then there's Brian Cox, who plays the BBC's Sydney Newman (and was the voice of the Elder Ood in 'The End Of Time'), and perhaps the best catch of all is Mark Eden, who plays the BBC exec Donald Baverstock.
He was Marco Polo in the original 1964 adventure 'Marco Polo,' playing opposite (drumroll…) William Hartnell! (TISH!)
Read More
Filed Under: