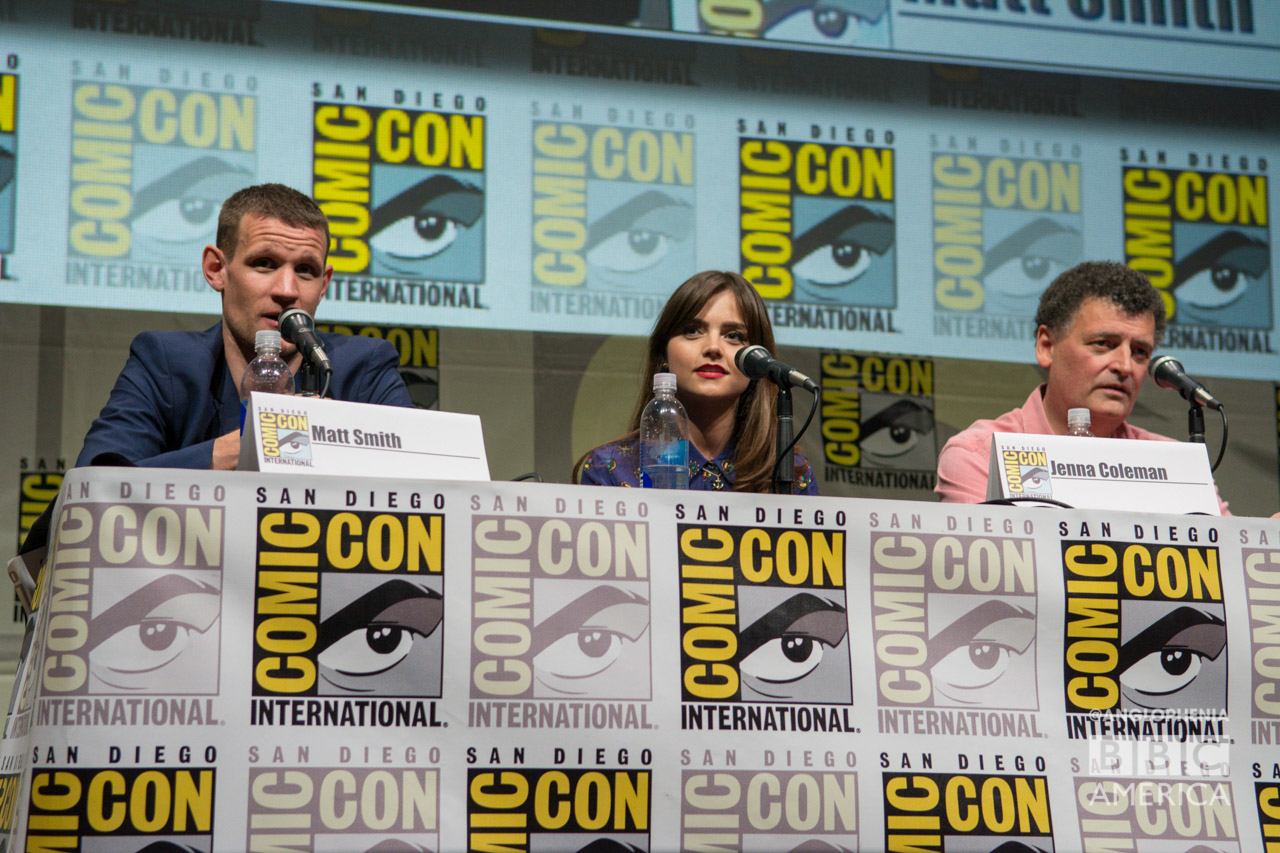 It is fair to say that the events of the last few days at San Diego Comic-Con have been momentous, from a Doctor Who perspective. There have been revelations, there have been surprises, dressings-up and moments of cuteness and passion aplenty.
To get a real flavor of what's gone on, you'd need to look at all of our first-hand coverage, which includes:
• 11 great Matt Smith quotes from his first day at Comic-Con
• The best Doctor Who cosplay from Day One, including an amazing TARDIS kilt.
• The top Doctor Who cosplay from Day Two and a visit from Mark Gatiss and David Bradley to the BBC AMERICA booth.
• A recap of the massive Doctor Who meetup, an event that gathered more than 600 cosplaying Whovians into a room. It also featured a surprise appearance from the Doctor Who cast.
And finally, we live-tweeted, recapped, and photographed Sunday's Doctor Who panel, which featured a nice goodbye from Matt Smith and some instantly classic quotes from Steven Moffat. Comedian Craig Ferguson, host of CBS' Late Late Show and one of our great celebrity Whovians, killed it as moderator, dropping in bits of his trademark cheeky humor. "The people waiting for Sons of Anarchy panel are going to be really confused right now," he joked.
And here's a recap in tweet form, via the Doctor Who Tumblr.
And of course, THIS HAPPENED. Matt Smith, roaming the convention floor unnoticed by the rest of us, disguised as one of the most recognizable cartoon characters of all-time.
Lesson learned for your next Con: you never know who's under that Chewbacca mask.
While we're at it, here's Matt Smith's very first Comic-Con interview, for IGN, in which he reveals how Doctor Who has transformed his life:
Also, Doctor Who was No. 2 on Time Magazine's list of highlights from Comic-Con. And this Entertainment Weekly photo of Matt Smith and Jenna Coleman gives us the feels.
And this person deserves special credit for their, ahem, Masterful photobombing.
Here's what else has been going on in space and time this week:
• Matt's first car – remember, the one he called 'The Shed'? – has now been sold, and raised £6,300 for the Starlight Children's Foundation.
• Doctor Who News have put together a series of posts about the origins and earliest days of the show.
• Doctor Who TV are running a series about the Doctor's foes. Here's their entry describing his troubled relationship with his own people, the Time Lords.
• A beautifully edited history of the Eleventh Doctor:
http://www.youtube.com/watch?v=42sxZd1ZkC4
• What Culture have compiled a list of the 10 greatest moments of the Third Doctor's TARDIS tenure.
• And Metro have done their five greatest episodes featuring the Ninth Doctor.
• Arthur Darvill knows some of what's happening in the 50th Anniversary, but he's not saying.
• We're into the seventh month of 2013, which means we're due the seventh Doctor Who short story, concerning the Seventh Doctor. Here's children's laureate Malorie Blackman to explain how she came to write The Ripple Effect:
• The Hollywood Reporter are thinking ahead, and provide this helpful guide to choosing a new Doctor.
• 'What can we expect from the 50th Anniversary Special?' asks Entertainmentwise.
• And here's a one word answer: Daleks.
• Here's a nice interview with Sixth Doctor Colin Baker from the London Comic-Con:
• Sir Kenneth Branagh wants a role in Doctor Who. Note: He said A role, not THE role.
• Frazer Hines, who played the Second Doctor's companion Jamie McCrimmon, gave this interview about his life with Doctor Who.
• And here's our tribute to Jamie.
• Meanwhile, Den of Geek has been assessing Ian, Barbara and Susan as the First Doctor's first companions.
• Let's go out with a song (sort of). This is taken from the BBC's recent Doctor Who prom; a medley of noises and themes from classic Who, played by an orchestra with added synths:
http://www.youtube.com/watch?v=qel1cIp7Kbo
• Oh, and that reminds us, the not only is there a special limited-edition Doctor Who vinyl soundtrack album on the way, but a soundtrack to Season 7 is coming soon!
TTFN!
Read More
Filed Under: