It's not the usual aircraft you might see on the runway, but it's a whole lot cooler than a 747: the Doctor's iconic blue police box has touched down at London's Heathrow Airport, ushering in a celebration of Doctor Who's 50th anniversary at Britain's busiest travel hub.
In addition to the TARDIS stunt, travelers through Heathrow will be able to enjoy an assortment of Whovian delights, including TARDIS photobooths; an invasion of the Doctor's robot foes, the Cybermen; and actual props and memorabilia from the series.
Kicking things off today (July 16), the London Philharmonic Orchestra will be playing music from the show to passengers in Heathrow's Terminal 5 and Doctor Who novelist Jenny Colgan will be holding a book signing for her new release, Doctor Who: Dark Horizons.
The events are part of a partnership between BBC Worldwide and London Heathrow. Amanda Hill, Chief Brands Officer for BBC Worldwide, says, via press release: "In its 50th Anniversary year we want to include fans around the world in our Doctor Who celebrations and this partnership with Heathrow is a fantastic way of capturing the attention of people from across the globe."
Meanwhile, Susan Goldsmith, Operations Director at Heathrow Terminal 5, says: "I am delighted that Heathrow has been chosen to host this much loved British iconic series. With visitors from over 180 destinations worldwide, as the U.K.'s only hub airport, Heathrow offers a fantastic opportunity to bring the Doctor Who experience to an international audience this summer."
Finally, Steven Moffat, Doctor Who's ever-witty showrunner, adds: "We are delighted to announce another extension to Heathrow's world-beating facilities — all of space and time in a stylish blue box, complete with phone. Heathrow with time travel – nobody need ever be late again."
• Also, a major celebrity Whovian has announced that he'll be hosting the Doctor Who's 50th anniversary panel at San Diego Comic-Con on Sunday:
I'm honored to be moderating @BBCAMERICA 's Dr Who panel at #ComicCon in Hall H Sunday 21 @ 1230pm. #intellect&romance>bruteforce&cynicism

— Craig Ferguson (@CraigyFerg) July 15, 2013
Which gives us a fantastic opportunity to post this epic delight from The Late Late Show with Craig Ferguson:
• Let us follow that with this most joyous of events, the Doctor and Clara at the Doctor Who prom, over the weekend:
They were also joined by the Fifth Doctor (OK, Peter Davison) and Susan (Carole Ann Ford), for a celebration of orchestral music, including that of Doctor Who's own Murray Gold.
Radio Times has a full report, including this quote from Carole Ann about what life was like back at the very beginning of the show: "One of the great things about being an actor in a show like this was that you got to be a kid again… though we often got the giggles when we got to meet some of the new monsters."
Speaking of Murray Gold, here's an interview he gave to BBC Radio 4's Front Row:
They also list the Top 10 Murray Gold theme tunes. Go on, have a wallow.
Here's what else is going on in space and time this week:
• Did you see the first image of David Bradley as William Hartnell in BBC AMERICA's An Adventure In Space And Time?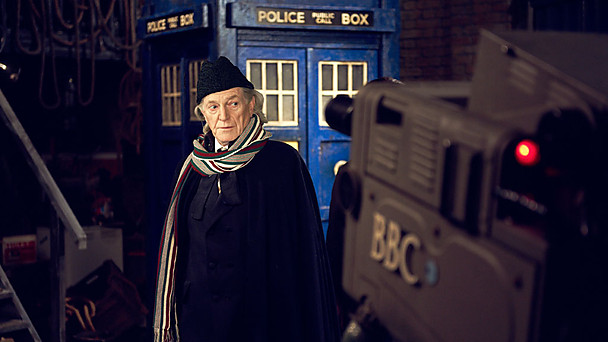 • Steven Moffat on casting a new Doctor: "Well, it's always just terrifying… When you're suddenly faced with the reality that you are going to sit there and you are going to make that decision it does feel absolutely chilling. There's a very big range of people who could play it and different ways you could go with it. We must get this right. One false move and the show's over."
• He also commented on the challenges presented by a certain recent haircut: "We're sprinkling fertilizer on [Matt's] head as we speak … The Doctor will turn up in his trademark quiff. We can't have Matt's last stand in the TARDIS without his proper look."
• What Culture have delivered this list of qualities needed for a good Doctor.
• Matt Smith's first car — a silver Vauxhall Corsa he called "the shed" is up for sale, for charity.
• Ever the busy bee, Matt has also been to St. Petersburg to judge the Imagine Cup finals. And, while he was there, explained once again why he's not on social media: "I'm not on Twitter or Facebook or any of those things. For me, I grew up reading the papers with my dad in the morning. And we'd have breakfast together. He'd read one paper and I'd read the other and then we'd swap. I prefer the ceremony of it."
• Which just reminded us of this lovely promo clip:
http://www.youtube.com/watch?feature=player_embedded&v=k-GQ4h77KVI
• Here's an excellent summary of Doctor Who's appeal to non-geeks who can't stick sci-fi normally.
• Strange blue telephone boxes have appeared across Leeds city centre, and it's something to do with WiFi.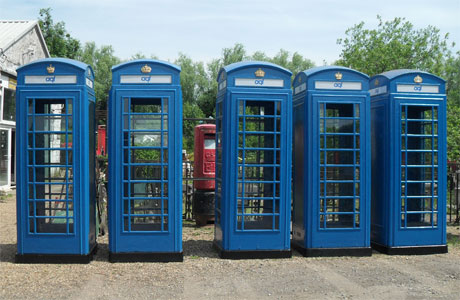 • Catherine Tate is making her return to science fiction, having signed up to appear in Superbob, the tale of a shy British postman who is given supernatural powers after being struck by a meteor.
• Fancy exploring the full range of possibilities of a sonic (apart from turning screws without touching them)? Of course you do.
• We've saved this one until last for reasons of space (and time). But as a labour of love, this is first in the queue. York Maze is a maze, made of maize, and it is shaped like a Dalek – a 1000ft tall Dalek, mind you – and a Doctor, and another Doctor.
AND it was opened by Colin Baker, which makes THREE Doctors in all. LOOK:
Literally amazing.
TTFN!
Read More
Filed Under: