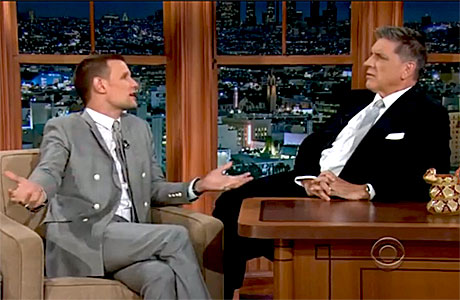 Less than a week after they shared the stage at Comic-Con, Matt Smith was on The Late Late Show with Craig Ferguson, for a lovely long rambling interview, in which (among other things) he revealed that he's giving serious consideration to moving to America once his Whovian duties are all done with.
Naturally, being an arty sort, he'd rather live in New York, but it seems most likely (unless he was just being agreeable) that he'll be chancing his arm in Los Angeles.
Here's the whole thing, in which Matt is wearing a beautiful suit:
http://www.youtube.com/watch?feature=player_embedded&v=W2-XTJRhr8Q
And here's what else is going on in space and time this week:
• We do love a fan-made trailer for the 50th. Here's a nice short one:
http://www.youtube.com/watch?v=K37ipXuWifM
• Matt has dropped a couple of hints as to where his regeneration may take place, and how his Doctor will welcome David Tennant and John Hurt into the TARDIS. Radio Times has been reading significance into what he said, but if you'd rather not, that's fine too.
• BBC News has a report on how (and why) to build your own TARDIS for home use.
• io9 has a great series of Comic-Con interview snippets with Steven Moffat, in which he discusses the dangling storyline threads within the timeline of the Eleventh Doctor — including why the Silence wanted to kill the Doctor before the first question was asked, and whether River Song will reappear.
When asked if he owed the fans some closure, he said: "Well, we are going to do it all. It's going to end at Christmas. Yeah. But 'owe them'? I don't know about 'owing.' But yeah, there's a plan, and we will end the Eleventh Doctor's run with the answers to some of those questions."
And here he is again, discussing plans for the 12th Doctor with Doctor Who TV:
• Did you see the audition script for actors playing the 12th Doctor?
• Doctor Who TV ask what will happen to River Song?
• But Alex Kingston and John Barrowman have their own ideas.
• Radio Times have a great story about the fruitless quest to get a front cover of their own magazine for the very first episode of Doctor Who, back in 1963.
• An infographic guide to Gallifreyan math.
• Back at Comic-Con, here's a nice interview David Bradley gave to SFX about portraying William Hartnell in An Adventure In Space And Time:
• A companion to the Seventh Doctor, in which a whimsical clown becomes a serious strategist and the man who convinced the Daleks to blow up Skaro.
• Kasterborous looks back on the Ninth Doctor adventure "The End of the World."
• The Daily Star has this photo of Arthur Darvill looking fierce as the Duke of Buckingham in the BBC's medieval historical drama The White Queen (which will air on Starz in the U.S.).
• Our Anglo Fan Favorites tournament is back, and several Who mainstays are in competition this year: Tennant, Smith, Darvill, John Barrowman, writer Neil Gaiman, celebrity fan Craig Ferguson, plus guest stars/voice stars Andrew Garfield, Colin Morgan, James Corden, Simon Pegg, and Sir Ian McKellen. Vote in Round 1.
• Ever noticed that there's a whole lot of overlap between Doctor Who and the hit U.K. drama Broadchurch (Tennant as a cop, Darvill as a vicar)? As we found, there are more connections than you might think.
Broadchurch kicks off on BBC AMERICA Wednesday, August 7 at 10/9c.
• Russell T. Davies has donated a specially annotated version of his script for "Midnight," the Tenth Doctor story, to the charity Project Motor House, which is run by Janet Fielding, who used to play the Fourth/Fifth Doctor's companion Tegan.
• Speaking of whom, here's What Culture's profile of Tegan.
• This next item might be a little frustrating to read, so we may have to just lay the facts out there and scoot on by as quickly as possible. The BBC are filming a pilot for a show celebrating 50 years of Doctor Who, and they're appealing for audience members in full Whovian cosplay. Caveat: you'll need to be in London in August.
• Let's move on. How about Tom Baker talking about the emotional impact of regenerating yourself out of a job:
• And here's a lovely long Vulture interview with Matt Smith in which he reveals that he already knew Karen Gillan had shaved her head before Comic-Con, and how he thinks she looks now: "Weird. Unnerving. And she's unnerving anyway. But she's a beautiful girl and she has those blue eyes, she can pull it of."
• Matt and Jenna went to the Television Critics Association Tour panel.
• Look! Awesome Doctor Who paper dolls (via klaatu):
• Not content with bequeathing the world the immortal Inspector Spacetime, Community's Dan Harmon's new show for Adult Swim, called Rick and Morty, is also inspired by Doctor Who, according to Entertainment Weekly.
• What Culture also did a list of 10 non-Whovian villains they'd like to see battle the Doctor.
• Let's end with the solution to a riddle. Do you remember those teaser videos from a couple of weeks ago, arranged under the hashtag #thefourth? This is what it was all about:
TTFN!
Read More
Filed Under: