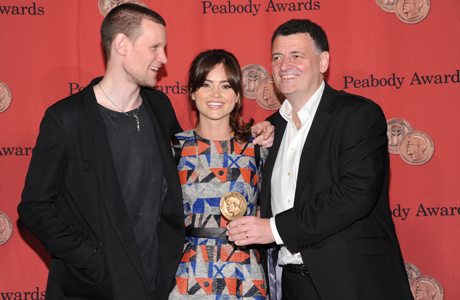 Doctor Who returns to lead the Sunday Hall H lineup at San Diego Comic-Con, with a jam-packed BBC AMERICA panel in celebration of both November's 50th anniversary special and An Adventure in Space and Time, a film that dramatizes the behind-the-scenes early days of the series. Here's BBC AMERICA's official announcement:
BBC America presents the Doctor Who 50th Anniversary panel featuring Doctor Who stars Matt Smith and Jenna Coleman, award-winning lead writer and executive producer Steven Moffat, An Adventure in Space and Time star David Bradley, and award-winning writer/executive producer Mark Gatiss. The Doctor Who 50th Anniversary Special will premiere November 23, on BBC America. As part of the celebrations in November, An Adventure in Space and Time will tell the story of the genesis of Doctor Who, with David Bradley starring as the first ever Doctor, William Hartnell.
The panel is scheduled for 12:30 to 1:30 pm in Hall H.
Here's what else has been going on in space and time:
• If you're heading down to San Diego Comic-Con and stuck for cosplay ideas, check out our How To Dress Like collection of blog posts. New additions include Clara Oswin Oswald and her enormous wardrobe of lovely frocks.
• At Comic-Con in Paris, the First Doctor's TARDIS set materialized: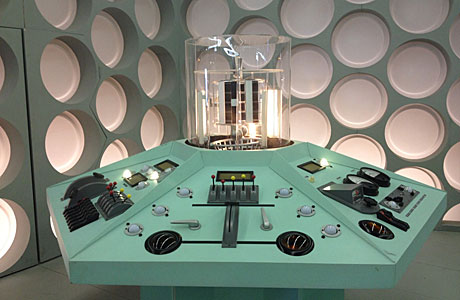 • Speaking of conventions, there's been an announcement of details for the Doctor Who 50th Anniversary celebration event in London this November. To keep an eye on what's coming, visit the Doctor Who Celebration site.
• WHAT is this video all about? #thefourth
• A father and daughter team have decided to send a TARDIS into space.
• Huge congratulations to John Barrowman and Scott Gill, who got married last week.
• Doctor Who TV also asks, which Doctor is John Hurt playing? Where is this unseen Doctor in the order of Doctors?
• The National Media Museum in Bradford is calling upon Whovians to send over their stories and memorabilia for a special exhibition to mark the show's 50th anniversary.
• Why Doctor Who is at the cutting edge of British music.
• Surely the best rumor of the week has to be that Michael Jackson was once in serious talks to play the Doctor in a Paramount movie.
• Is this video related to the other one? #thefourth
• Aneurin Barnard, who is currently playing Richard III in The White Queen, thinks playing the Doctor would be "good fun.".
• However, Matt Smith jokes that the job could easily go to Prince Charles, who visited the Doctor Who set last week with his wife, the Duchess of Cornwall:
https://www.youtube.com/watch?v=raPexV84BhY
Note: there's a fuller report on the Royal Visit here.
• What Culture have put together a list of the 10 best Doctor Who episodes to encourage new fans. And yes, "Blink" is one of them.
• 15 pets that look like Doctor Who characters.
• Doctor Who gifs cover all manner of emotions, don't they? But did you know they can be used to illustrated Beatles lyrics? You do now.
• Mark Gatiss remembers the time Russell T. Davies wanted there to be a live episode of Doctor Who.
• Ah! Of course! #thefourth explained in full.
• Let's end with something magnificent. This is the original 1960s Doctor Who theme song, time-stretched out so that it lasts for 20 minutes, but remains in exactly the same key as always.
Crank it up loud, and expect to feel all manner of things:
TTFN!
Read More
Filed Under: