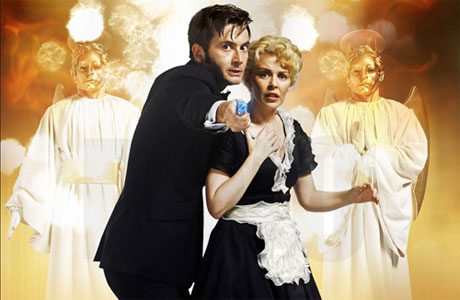 Any TV show that has lasted as long, and had as great an impact as Doctor Who would probably have ended up featuring a pop star or two along the way. That's just simple celebrity thermodynamics in action.
But the great thing about Doctor Who is the astonishing range of its musical associations, whether as near-misses, hidden cameos, personal appearances or actual acting roles.
Here's a list of 10, starting with the ones that got away:
David Bowie
Murray Gold, Doctor Who composer, claims that he once bumped into David Bowie, and told him that he wrote the music for the show, to which David's immediate response was "I'm not doing it!" – a reaction that Murray still can't fully explain. But even if there had been talk of a Bowie cameo, it wouldn't have been the first time. In 1984 David was approached to appear in 'The Caves of Androzani,' opposite Peter Davison's Fifth Doctor, as Sharaz Jek, but it didn't quite happen.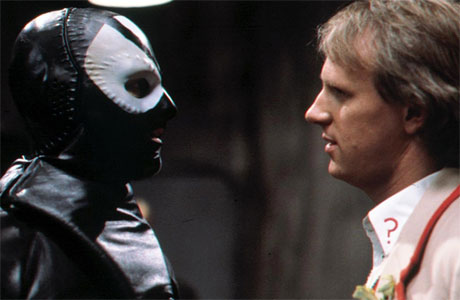 Michael Jackson
Quite possibly the best rumor of all time. A proposed Doctor Who movie, in the late 1980s, starring the self-styled King of Pop as the actual Lord of Time. It is at one and the same time an astonishingly daring, and preposterously bad idea.
The Beatles
In the 1965 story 'The Chase' there's a clip of the Beatles performing "Ticket To Ride" on the flagship BBC pop programme Top of the Pops, which was given an even rougher ride in the BBC mass throwing-away of episodes than Doctor Who itself. Consequently, this is the only surviving clip of the biggest British band ever on the longest-running pop show in British TV history:
Kylie Minogue ('Voyage of the Damned')
Let me guess, you already know about this one, right?
Leee John 
Here's Leee (with three es) from the '80s soul troupe Imagination, as he appears in the Fifth Doctor story 'Enlightenment'
And here he is again, in the aforementioned '80s soul pop troupe Imagination:
https://www.youtube.com/watch?v=xDs_aRRdp2o
McFly (and Ozzy Osbourne)
'The Sound of Drums' has a few celebrity cameo moments, including this section where people endorse the candidacy of Harold Saxon for Prime Minister. Panning up from a shot of her husband Ozzy, Sharon Osbourne endorses his campaign, followed immediately by the pop group McFly doing the same (and then gurning).
Mike Skinner
See this guy with the River Song kissyface and the big stary eyes from 'The Time Of Angels'? That's Mike Skinner, urban poet, who found international fame under the name the Streets.
And to finish, here's a section devoted to comedians who also happened to have hit records, starting with Ken Dodd, a comedian and No.1 recording artiste of the 1960s:
And here's Peter Kay, a comedian and No.1 recording artiste of the 2000s:
https://www.youtube.com/watch?v=HsNvkgooIHA
And to finish, here's an animation featuring the voice of Bernard Cribbins, Wilfred Mott himself, singing "Right Said Fred," a No.10 Brit hit from 1962 (and yes, it's the song the band who did "I'm Too Sexy" named themselves after):
There's more from Bernard here, in our Life Outside The TARDIS companions special…
Read More
Filed Under: