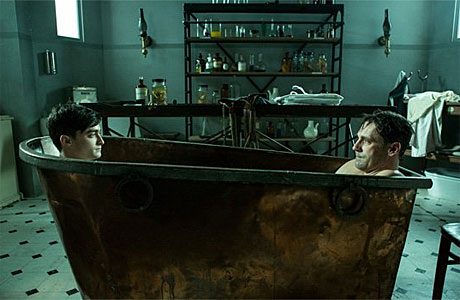 Daniel Radcliffe stars opposite Mad Men's Jon Hamm in A Young Doctor's Notebook which originally aired on Sky Arts in the UK, and is available in the U.S. on iTunes. The comedy drama has been greenlit for a second season, according to The Telegraph.
Hamm plays a Russian doctor during the Russian Revolution in the TV series adaptation of Mikhail Bulgakov's short stories, set in 1917. Radcliffe plays the same character as a younger man who is battling with morphine addiction. The two appear on screen at the same time in some scenes with the older doctor speaking to his younger self. That explains this snap of the two actors in the tub together:
Here's a trailer for the first season:
Ovation TV will air the first season this fall in the U.S.
What do you think of this pairing? 
Read More
Filed Under: