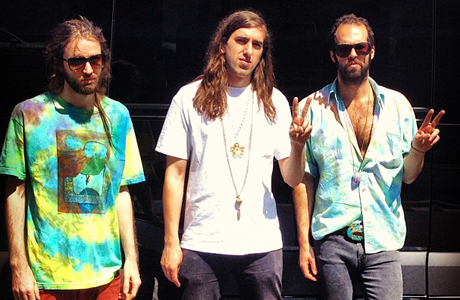 Crystal Fighters aren't the typical band we cover at Anglophenia. Formed in Spain's Basque country from a ragtag international group of musicians, they are rarely billed as a British band.
Perhaps it's because they don't really sound "British": they traffic in a sun-dappled California optimism. (Their new sophomore album, Cave Rave, was recorded in both in Spain and in Los Angeles and contains a song titled "LA Calling.") On of one of their many communal singalongs, "Bridge of Bones" has a refrain with the lyrics "So I will float to find my love/So shine your light/Show me a way, show me a way to forever," and features, "I Want to Know What Love Is"-style, a wailing gospel singer. And it works. Through their music, the Fighters explore the folk traditions and instrumentation of the northern Spanish region where they all met, layering in electronic textures and arena hooks as imposing as the Bay of Biscay.
Despite their evocations of endless summer, the band is led by two Brits, Gilbert Vierich and tie-dyed frontman Sebastian Pringle, and an American, Graham Dickson. They stopped by BBC AMERICA New York office to chat about their album, the positive message they hope to impart in their music, and the things they've learned from each other as natives from opposite sides of the Atlantic.
Anglophenia: How would you describe your music to someone who's never heard it?
Sebastian: It's like a mixture of old folk music from the Basque country and other places of the world and modern electronic dance music, which was a combination which came about because of our original singer, Eleanor Fletcher, whose grandfather was from the Basque country, and he left her a leather-bound book, which she then brought to us. It showed us all sorts of insights into Basque culture and Basque mythology, which we then combined with the dance music we were already creating.
Anglophenia: You guys partially recorded your album in L.A., and like what sort of influenced that decision?
Graham: Our producer we chose to do it with, Justin Meldal-Johnsen, is based in L.A., but having signed a deal with America for the first time, we kinda wanted to flip it up. Writing it in the Basque country and then bringing it to America, I think, gave it more of a global sound in a way. And yeah, I mean just also to be in the sunshine for the winter, [points to Sebastian and Gilbert] having lived in London their whole lives, and I've been there for a long time now as well. It was an amazing change for us. I think it definitely affected the sound of the album.
Sebastian: I'll say on that point, that writing a lot of the music in the summer in the Basque country where it was like nice weather and then got to L.A. where it was sunny. So like the whole record has had that sunshine soaked feeling about it.
Anglophenia: Your music definitely has a positive "peace and love" vibe. Where does that come from? Does that come from a specific worldview or philosophy?
Graham: I think love is something that's within all of us, and it's one of the most easiest to relate to everyone. I think love also is the solution to most problems, and we seem to forget that, especially these days. I think that if we can make people feel love and love each other, and be happy however it is they enjoy the music, whether it's in the pub or a concert or not in the speaking the language, whatever, that for me there's a positive message there. I think the positive message is actually a lot stronger and can have more of an effect on things than people really realize. It's a lot easier than people seem to think to love each other.
Gilbert: Everything that Graham said I totally agree with, and then like on top of that you're making music to hopefully entertain people and to share good feelings with people. So when it comes to writing that in music that we're gonna hopefully play at a gig or at a festival, we want it to be positive, we want it to have positive messages. It's good for us, it's good for other people. It's good to be able to shine that bit of light into people's lives.
Graham: In this crucial time in humanity, there's got to be something fun.
Anglophenia: What's different about touring in the States than touring the other places you guys have been?
Gilbert: I'd say, apart from the size of the sheer size of the place — this place is massive — and the distances involved … the lines are blurred in Europe between concerts and raves. There's just like party culture. "Are we going out tonight?" "Yeah, we're going out." "Where are we going out?" Whereas here there's more of a concert vibe still. There's still the rock and roll concert, the theater concert, sort of like "Go to the show early, and then go out." Whereas in Europe, you see things [blended] altogether, rave culture mixed with live music culture mixed with after-party culture. [In America], people are there to watch the show.
Sebastian: There is great variety in the U.S. crowds as well, which is quite unusual for one country to have. All these different style venues, even though they may be more concert-oriented [in the U.S.], you know there are definite crowds who turn out and have different sort of vibes. Particularly for our music, some cities it might be a bit more rave-y. Vancouver in Canada was real rave-y, mosh-y.
Graham: But then in San Diego you have like this Latin scene, and so you have like it's really great to sort of play to different cultures from stop to stop and see how the land differs as well. It's like we were driving through the mountains a week ago, and ended up in New York driving down the the East Coast. It is like a different country from place to place. The size is interesting.
Anglophenia: Graham, being the only American in the band, what British things have you picked up from these two lads?
Graham: Dance music. Like minimal techno, before I got over there I couldn't hear the difference between different genres of dance music, really. And now it's my favorite, I'm obsessed with minimal techno and vinyl. Also the culture. Like before I got there — I mean, it sounds ignorant — but before I got there I didn't realize how different English culture could be compared to American culture just because the language is the same. And I just realized I've learned a lot about myself because of them, and now to kind of reevaluate my own character as an American. [It's been] really important I think for my development. Definitely.
Anglophenia: What did you learn about yourself?
Graham: Just you know, like, being an opinionated, loud American doesn't fly all the time in the rest of the world. And I guess sometimes it's okay to tone down.
Anglophenia: What brought you over there anyways?
Graham: Initially, it was a mixture of kind of being fed up with America when I went it was just after 9/11, and essentially I just wasn't feeling what was going on over here, and I went to Scotland to study. That's when I ended up meeting Gilbert, at the end of my time there, and moved to London to do this. Literally, within two weeks he convinced me.
Anglophenia: And Sebastian and Gilbert, have you picked up anything from Graham with American culture?
Sebastian: A lot. I've learned to have fun from Graham. I knew how to have fun before, but definitely in more ways. And we've all become more loving, probably more open.
Gilbert: Graham did teach me this one awesome thing. He's taught me something a little bit… I'll tell you after (laughs). It's awesome. I've been living off it ever since. We'll talk later.
Read More