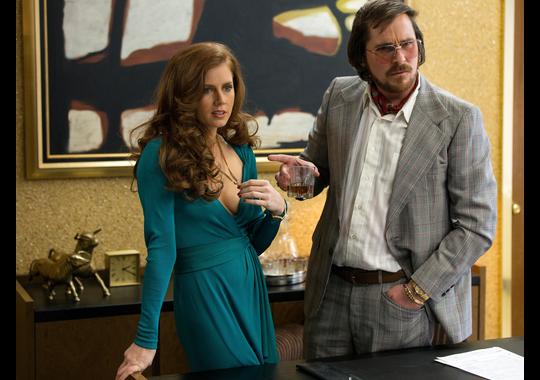 Say what you like about Christian Bale, but he is, by and large, a good-looking man. Which makes these newly-released shots from his latest movie all the more appealing for those of us who were not blessed with that particular gift. Look, see that combover? See the turkey-neck-covering tidy beard? He's one of us now!
The film is American Hustle, it's directed by David O. Russell, who also gave us Silver Linings Playbook and The Fighter, and it's a fictionalized account of the FBI's Abscam sting in the late '70s. This was an investigation into the trafficking of stolen goods that started with the mafia and ending with the conviction of a Senator, five members of the House of Representatives, one member of the New Jersey State Senate, members of the Philadelphia City Council, and an inspector for the Immigration and Naturalization Service.
Christian plays the seasoned con artist and stolen art dealer Irving Rosenfeld, who is approached by a particularly wayward FBI agent, played by Bradley Cooper, and may I say the transformation suits both men SO well. It's like Starsky and Hutch: the Lean Years.
Amy Adams – who appears to be immune to the retro-frumpiness on show – plays Irving's British mistress Sydney, so there's an transatlantic accent swap happening too, and Jennifer Lawrence is Rosalyn, his long-suffering firebrand of a wife.
David told USA Today that it's a story of a scandal that, while astonishing in impact, continues to resonate for a modern audience: "That era was very much like our era now. The economy was not in a good place and people had to struggle to figure out how to reinvent themselves."
Not least the actors in the movie, although he's not talking about the boys and their joint makeover when he says, "Everybody gets to do something we've never seen before. That's exciting to me."
American Hustle is in theaters from December 25.
Read More
Filed Under: