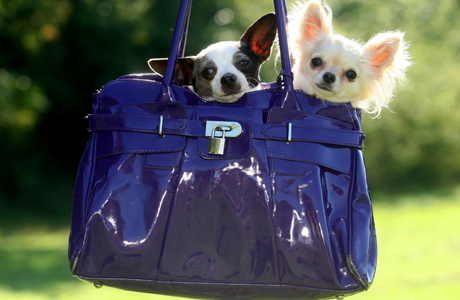 America has been at the forefront of innovation and cultural trends, but when it swings and misses, it really misses. Here are six U.S. crazes apparently thought up just to annoy Brits:
Putting dogs in purses
That all-American heroine Paris Hilton pioneered the trend of stuffing miniature hounds into handbags. Now everyone's doing it. Which is a good thing really, because what Chihuahua pup doesn't grow up with its parents grooming them to one day sit atop a pile of old lipsticks and tampons that have broken free of their wrapper?
Baseball
This brain-saggingly tedious game can last for hours — three of them on average. Do players get to wear pajamas to work because there's so much standing around doing nothing they might need to sneak off and take a nap?
Indoor cats
Before moving to New York, I'd never heard of anyone keeping a healthy, young cat in their house – or, as is often the case in this ludicrously expensive city, an apartment so small your kitchen is a fridge. And not letting them out. Ever. When the Cat Bin Lady story broke in the U.K. back in 2010, Americans were horrified, but many of them for an entirely different reason: what was the dumb Brit owner doing letting their precious bundle of fur out into the big wide world in the first place?
Brunch
A contrivance of the American restaurant industry, "brunch" is the best way they've found to get otherwise sensible people to pay fifteen dollars for eggs. Brunch crowds are noticeably more obnoxious than those assembled for breakfast, lunch or dinner. Perhaps it's the bottomless Mimosas made with high ethanol, sparkling puppy urine.
Infinite coffee options
Unless you're planning to get your Joe on in the most basic of diners, the statement, "I'd like a coffee, please" will be met with at least one but possibly two or three follow up questions. It's like walking into Radio Shack and saying, "I'd like a phone, please."
Hipsters
There are aloof trendies who wear bowling shoes in the U.K., but the American hipster, native to Brooklyn and Portland, is the undiluted original. They're nearly always parentally sponsored artists of some kind (usually the bad kind), or they work for a tech start-up to get money for falafel and hats. (See also: a British woman's guide to dating a Brooklyn hipster.)
Join us Friday at 1 pm/et on Twitter for #MindTheChat, our weekly discussion of issues important to Brits in the U.S. This week's topic: joining expat groups in America.
Read More
Filed Under: