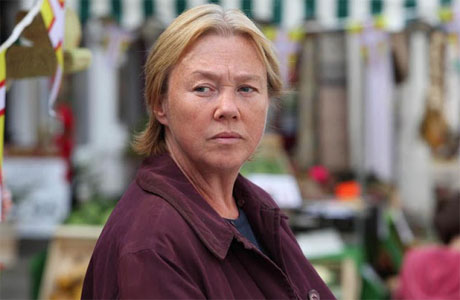 When you're watching Broadchurch over the next few weeks, keep an eye out for this lady above. Unless you're one of the relatively few American fans of the BBC comedy Birds of a Feather, you may not immediately recognize her, but to British TV viewers, she's a much-loved talent, a working class hero, and a pre-Olivia Colman Olivia Colman, whose acting resume is so all-over-the-place it could pass muster as a map of the world.
Having made a mark as a child star in the very early '70s, playing young tearaway roles in Dixon of Dock Green, Softly Softly: Task Force, and The Trouble With 2B, she took up a sideline role as a junior sketch comedian on children's TV.
This proved so successful she even had her own comedy and music shows, Pauline's People (which also starred her lifelong friend Linda Robson), and Pauline's Quirkes:
All the while, she was getting roles in TV dramas like Crown Court, and The Duchess of Duke Street, which also starred a very youthful Lalla Ward (another Doctor Who crossover for you):
She's in The Elephant Man too, as a leering prostitute (2:42 into this trailer, on the left):
The consolidation of all this hard work was roles in the medical drama Angels, and the wartime comedy drama Shine On Harvey Moon, and then the career-defining comedy role, back with Linda Robson in Birds of a Feather:
But all the while, the dramatic roles in period dramas and cop shows kept coming: from The Canterbury Ghost to Maisie Raine, David Copperfield to Office Gossip, and cameos in established shows like Skins, My Family, Cold Blood and Emmerdale:
http://www.youtube.com/watch?feature=player_detailpage&v=-HDY5Pgdz9M&t=144
And, as if that wasn't enough to make a good impression, she's even set up her own academy of performing arts, to give kids the same headstart into acting that she got at the age of nine.
Just something to bear in mind, if you can tear your mind away from all the tension and trauma of Broadchurch, that is.
Broadchurch begins on August 7, 10pm/9c on BBCAMERICA
Read More
Filed Under: