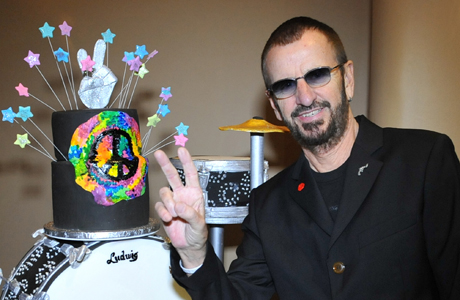 Ringo Starr can sing a verse or two of "When I'm 64" to celebrate his birthday next Sunday, but only if he changes the number in the lyric to 73. Yes, Beatles fans, the Fab Four's drummer turns 73 on July 7, one of several famous Brits who'll be marking their natal day this week.
Not that Ringo is slowing down any with age. He's recently finished touring Japan, New Zealand and Australia with his All-Starr band and has concert dates scheduled for South America this fall. And just last month, he promoted the opening of "Ringo: Peace & Love," an exhibit of memorabilia (including the drum kit he played when the Beatles appeared on The Ed Sullivan Show in 1963) at the Grammy Museum in Los Angeles.
He has also turned author, with one book just out last month and another on the way. The first book, Photograph, is an ebook available now on iTunes and with a hardbound version due in December. The ebook features photos from Ringo's childhood and his years with the Beatles, along with audio and video extras. Ringo's second book is Octopus's Garden, a children's storybook that Starr is adapting from the Beatles song of the same name from the Abbey Road album. It will be published in the U.K. in October and the U.S. in January.
Other major birthdays this week:
• Actress Jean Marsh, best known for co-creating with fellow actress Eileen Atkins the beloved Upstairs, Downstairs TV series (1971-75) on which she played Rose, a parlor maid, turns 79 today (July 1). She also appeared as Rose when the show was revived by BBC in 2010, though the new version lasted only two seasons. "It wasn't a mistake doing the new series," she told The Daily Mail last March, "it was fine. Only it was too near Downton [Abbey]. It's just one of those things." (Of special note for Doctor Who fans: Marsh was wed for five years, beginning in 1955, to actor Jon Pertwee, who played the Doctor from 1970 to '74.)
• Playwright Tom Stoppard, who was born in Czechoslovakia but settled with his family in England shortly after World War II, turns 76 on Wednesday (July 3). A breathtakingly erudite writer despite the fact that his formal schooling ended at age 17, Stoppard is the author of such frequently performed plays as Rosencrantz and Guildenstern Are Dead, The Real Thing and Arcadia. His most recent credit is Parade's End, a critically acclaimed miniseries he adapted from several novels by Ford Madox Ford, which aired last year on BBC in the U.K. and earlier this year on HBO in the U.S.
• Comic actress and writer Jennifer Saunders, the absolutely fabulous creator and star of Absolutely Fabulous, turns 55 on Saturday (July 6). The popular show about hard-drinking fashionistas Edina Monsoon (Saunders) and Patsy Stone (Joanna Lumley) began airing in the U.K. in 1992 and continues, sporadically, to this day. Her latest project, Viva Forever!, a juke box musical loosely based on and featuring the songs of The Spice Girls, opened to great fanfare on the West End last December. Neither reviews nor ticket sales matched the hype, however, and it played its final performance this past weekend. Sorry, sweetie.
• Actress Romola Garai, who starred in BBC America's The Hour, turns 31 today (July 1).
• Hip-hop artist and radio host Monie Love (born Simone Gooden), whose biggest hits included "It's a Shame (My Sister)" and "Monie in the Middle" in the early '90s, celebrates her 43rd birthday tomorrow (July 2).
• Actor Neil Morrissey, who starred in the British version of the TV series Men Behaving Badly, marks his 51st birthday on Thursday (July 4).
• Musician Nick O'Malley, a bass guitarist with the band Arctic Monkeys, turns 28 on Friday (July 5).
• Singer Kate Nash, whose third album, Girl Talk, came out in March, celebrates her 26th birthday on Saturday (July 6).
• Professional golfer Tony Jacklin, who won major titles at the British Open in 1969 and the U.S. Open in 1970, turns 69 on Sunday (July 7).
To whose birthday party of those listed above would you most like to be invited?
Read More
Filed Under: