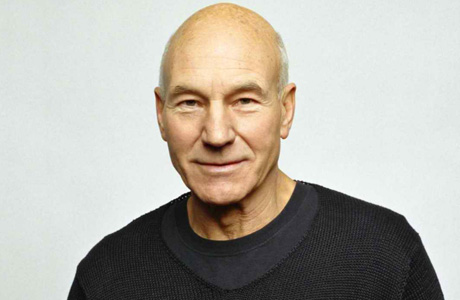 Patrick Stewart, who went where no man had gone before in leading a successful sequel to the Star Trek series with Star Trek: The Next Generation, turns 73 this Saturday (July 13).
He is just one of several famous Brits marking birthdays this week.
In addition to his iconic role as Captain Jean-Luc Picard on Next Generation (1987-94), Stewart won over a whole new generation of fans with his appearances in three X-Men movies (and a cameo in a fourth) as mutant leader Professor Charles Xavier.
Advancing years have barely slowed the shiny-domed actor down. Come October, he will be appearing on Broadway alongside Ian McKellen, his X-Men nemesis, in productions of Samuel Beckett's Waiting for Godot and Harold Pinter's No Man's Land. The dramas will play in repertory.
Our favorite bit of Stewart news: a DVD version of North & South, a 4-part, 1975 BBC adaptation of Elizabeth Gaskell's Victorian-era novel, has just been released for the first time (it's also available as a digital download). In it, Stewart makes a rare appearance with a full head of hair as the industrialist hero of the romantic drama.
Other British notables who'll be celebrating birthdays this week include:
Today (July 8):  Benjamin Grosvenor, the prize-winning young classical pianist who has already released three albums on the Decca label, turns 21. Controversial film director Tony Kaye, best known forAmerican History X (1998), marks his 61st birthday.
Tuesday (July 9):  Teen actress Georgie Henley, who portrayed Lucy Pevensie in the Narnia movie trilogy, turns 18, which makes her eligible both to vote and legally drink alcohol in the U.K.  Painter David Hockney, considered one of Britain's greatest living artists, celebrates his 76th birthday. He maintains residences and works in both his native England and Southern California.
Wednesday (July 10): Talented actor Chiwetel Ejiofor, who starred in the original film version of Kinky Boots (2005), will need 36 candles on his birthday cake.  And given Andy Murray's historic victory this past Sunday at Wimbledon, we'd be remiss if we failed to note that tennis ace Virgina Wade turns 68.  She is the last British woman to win a singles title on the grass at Wimbledon, an honor she earned way back in 1977.
Thursday (July 11):  Mark Lester, who as a boy played the titular orphan in an Oscar-winning British musical, Oliver!(1968), turns 55. He long ago left acting behind for an adult career as an osteopath and acupuncturist.
Friday (July 12): Singer-keyboardist Christine McVie, a key member of the popular Fleetwood Mac band, reaches 70. She departed the group for good in 1998 (having taken a couple previous breaks from the band) and currently lives a quiet life in England. Also celebrating his birthday on July 12 is actor Jake Wood, who long played Max Branning on the British soapEastEnders but is best known in the U.S. as the voice of the chummy gecko lizard in the TV ads for the GEICO insurance company.  He turns 41.
Saturday (July 13):  In addition to Patrick Stewart, this is also the 53rd birthday of noted wit Ian Hislop, the editor of the U.K. humor magazine, Private Eye. He also pops up regularly on British telly as a guest on news panel and chat shows.
Sunday (July 14):  British fashion designer Bruce Oldfield, famous for dressingPrincess Diana and other celebrity clients such as Sienna Miller and Rihanna, turns 63. Both his couture and bridal businesses are based in London.  And David Mitchell, the comic actor best known for his BAFTA-winning performance on the British sitcom, Peep Show, celebrates his 39th birthday. He has also garnered fans with EHe HAs a solo performer, he is known for his SoapBox series of on-line rants, in which he takes on various targets, including Downton Abbey and, appropriately enough, birthday cards. Have a look:
Whose party would you most like to attend of this week's Brits marking birthdays?
Read More