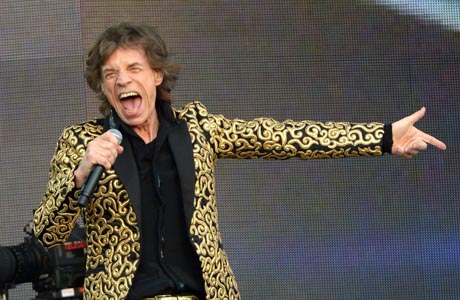 If there's a run on birthday candles in the U.K. this week, there's an easy explanation.  Way too many famous Brits are celebrating birthdays.
Tops on the list is Mick Jagger, the living legend of rock 'n' roll, who turns 70 on July 26.
When still a much younger man, he once said, "I'd rather be dead than singing 'Satisfaction' when I'm 45."
Live and learn, Mick. He just belted out the Rolling Stones' 1965 hit as the final encore at a concert in London's Hyde Park on July 13.
Born Michael Philip Jagger, the London School of Economics dropout has been fronting the Rolling Stones as the band's lead singer since the group's  founding in 1962. As part of the Stones' current "50 & Counting" tour, he and his longtime bandmates just finished a series of concert dates in the U.K. and, before that, the U.S.
As he reaches this major milestone, other numbers that Jagger might want to recall include:
47 – number of studio and live albums by the Rolling Stones
2 – number of times he has been married
7 – number of children he has fathered, with four different mothers
140 – his weight in pounds
28 – his waist size in inches
Here's Sir Mick greeting fans in a video shot just before the Hyde Park performance on July 13 and posted on the band's web site:
Other celebrated Brits who'll be blowing out candles on birthday cakes this week:
Monday, July 22: Welsh actor Rhys Ifans, who has just been cast in a recurring role as Sherlock Holmes' older brother in CBS' Elementary, turns 46. And actor Terence Stamp, the '60s heartthrob whose career continues to flourish, most recently in Unfinished Song, reaches 75.
Tuesday, July 23:  Daniel Radcliffe, who grew up before our very eyes in eight Harry Potter films as the cinematic embodiment of J.K. Rowling's boy wizard, marks his 24th birthday. He's currently starring on the London stage in a revival of the Martin McDonagh play, The Cripple of Inishmaan. And Jo Brand, the BAFTA-winning comic, actress and writer known for her curmudgeonly attitude, turns 56. Here's a clip–warning, it's NSFW–from Getting On, her BBC comedy series, featuring Brand as a hospital nurse who has flushed away an important stool sample:
Wednesday, July 24:  Robbie Grey, the lead singer for Modern English, celebrates his 56thbirthday. The band's best-known hit remains that '80s anthem, "I Melt With You," which Modern English first released in 1982. Grey sings the song here a year ago in concert in San Francisco:
Thursday, July 25: Louise Brown, who will forever be known as the world's first test-tube baby even though her conception actually took place in a petri dish, turns 35. She was the first human to be born via in vitro fertilization, a now common fertility procedure known as IVF. Brown is now married and mother to a son, who was conceived the old-fashioned way.
Friday, July 26: In addition to Jagger, this is also the birthday of three fabulous British actresses. That would Dame Helen Mirren, who turns 68 and is busy promoting Red 2, her latest movie; Kate Beckinsale, who turns 40 and has proved herself one tough action babe in the Underworld series andTotal Recall; and Olivia Williams, who turns 45 and has just begun shooting Maps to the Stars, a thriller directed by David Cronenberg (A History of Violence).
Saturday, July 27: Olympic pairs skater Christopher Dean, who won a gold medal with on-ice partner Jayne Torvill in 1984 and a bronze in '94, turns 55. And Jonathan Rhys Meyers, who strutted so winningly as a sexy Henry VIII in Showtime's The Tudors, celebrates turning 36. The actor will next play the titular vampire in Dracula, a new TV series beginning on NBC in October. Here's the trailer:
Sunday, July 28: Singer and X-Factor contestant Cher Lloyd, who in 2011 scored a No. 1 single in the U.K. with her very first record, "Swagger Jagger," reaches the advanced age of 20.
Of the birthday celebrants listed above, whose party would you most like to attend and why?
Read More
Filed Under: