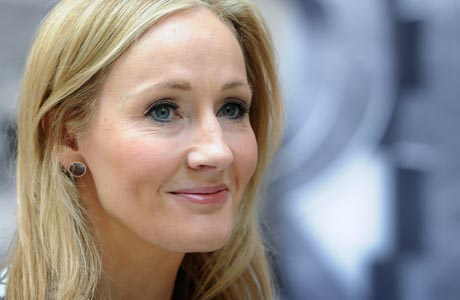 J.K. Rowling is having a busy month. Not Benedict Cumberbatch busy, but busy nonetheless.
Two weeks ago, the Harry Potter writer was revealed to be the real author of a mystery novel, The Cuckoo's Calling, which had been published last spring–to sparse sales–under the pseudonym, Robert Galbraith.
Once Rowling's involvement became known, the book almost instantly shot up to near the top of the bestseller lists on both sides of the Atlantic.
So let's raise a glass and offer a double toast to Rowling, both for her new bestseller and for her 48th birthday, which she celebrates this Wednesday (July 31).
The birthday marker means it has been 42 or 43 years since Rowling sat down to write her first story. As she herself once put it in an autobiographical sketch, "… the first story I ever wrote down (when I was five or six) was about a rabbit called Rabbit. He got the measles and was visited by his friends, including a giant bee called Miss Bee. And ever since Rabbit and Miss Bee, I have wanted to be a writer, though I rarely told anyone so. I was afraid they'd tell me I didn't have a hope."
Other Brits who'll be blowing out birthday candles this week include:
Today (July 29): Veteran actor David Warner turns 72. He first gained popular notice playing the title role in Morgan! (1966), an anarchic British comedy that costarred Vanessa Redgrave and epitomized the swinging sixties. He has kept busy ever since, often portraying villains, in films, TV and on stage. Earlier this year, he memorably appeared in the "Cold War" episode of Doctor Who as Professor Grisenko.
Tuesday (July 30):  Movie director and legend in the making Christopher Nolan requires 43 candles on his cake. The guiding hand behind the recent, hugely successful Batman screen trilogy, he scored another triumph earlier this summer with Man of Steel, the reboot of the Superman franchise for which he developed the story and produced. Nolan is currently in pre-production on a sci-fi drama, Interstellar, which will star Anne Hathaway, Matthew McConaughey, Jessica Chastain and Nolan regular Michael Caine.
Wednesday (July 31): Actress Emilia Fox, who played Mr. Darcy's sister, Georgina, in the 1995 TV mini-series version of Pride and Prejudice, turns 39. The daughter of distinguished actor Edward Fox, she is also known for appearing as Morgause in Merlin.
Thursday (Aug. 1): Director Sam Mendes, who won an Oscar for his first film, American Beauty (1999), and most recently steered the latest Bond film, Skyfall, to global blockbuster status, marks his 48th birthday. This summer, he directed a musical version of Willy Wonka and the Chocolate Factory on the London stage and confirmed that he's on board for the next 007 outing, due in 2015. Mendes, who previously was married to fellow Oscar-winner Kate Winslet, is currently keeping company with actress Rebecca Hall.
Friday (Aug. 2):  Irish born Peter O'Toole, the acting great who has been officially retired for a year now, turns 81. He become an international star when he galloped across the desert on horseback in the title role in Lawrence of Arabia(1962), for which he earned the first of his eight Oscar nominations. He was awarded an honorary Oscar in 2003.
Meryl Streep presents honorary Oscar to Peter O'Toole:
Saturday (Aug. 3): Jourdan Dunn, the fashion model who was discovered in 2006 while shopping in a Primark discount clothing store in London, turns 23.  According to The Huffington Post, she recently tweeted that she had been cut from catwalk at a Dior couture show in Paris because her bust size was too big. She then followed up with a tweet saying, "I'm normally told I'm cancelled because I'm 'coloured' so being cancelled because of my boobs is a minor." Dunn has been outspoken in interviews about the discrimination in the fashion world against black models.
Sunday (Aug. 4):  Stand-up comic Lee Mack, who starred in the British sitcom, Not Going Out, and as a team captain on the BBC panel show, Would I Lie to You?, turns 45. He served as M.C. at a concert saluting Queen Elizabeth a year ago to mark her Jubilee. In the clip below, he discusses meeting the monarch with Graham Norton during an appearance on The Graham Norton Show:
Of those listed above, at whose birthday bash would you most like to be a guest?
Read More
Filed Under: