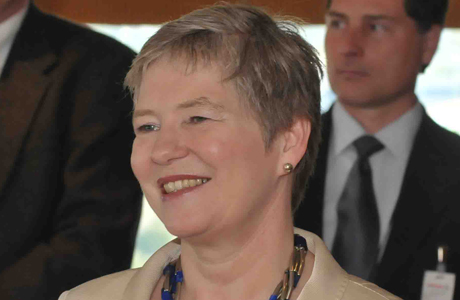 With less than a month left before her four-year posting comes to an end, Dame Barbara Hay found it hard to single out her favorite moment here — there had been so many to choose from.
"I was at JPL the night Curiosity landed on Mars," she said, referring to NASA's Jet Propulsion Laboratory. "The eruption of excitement and joy when it landed was absolutely thrilling — I cried! Visiting the U.K.'s James Clark-Maxwell telescope and Keck Observatory on Mauna Kea in Hawaii, and when the space shuttle Endeavour flew over California, we had a great view from the old office. I've been especially besotted by the science I've been seeing here, and I've had the privilege of meeting extraordinary people and seeing things many people wouldn't even know about."
As one of nine Consul-Generals across the U.S. (there are others in cities including New York, Chicago, San Francisco, Miami, Atlanta and Boston), Dame Barbara oversees a staff of 37 people (nearly all local) in what she calls their new, "smaller, cheaper and more efficient" Century City office, though this morning she was talking to me over tea and biscuits at her private residence in Hancock Park, a tony part of L.A. that's home to a number of Consul Generals.
British Consuls are a sort of satellite Embassy, located elsewhere from the main Embassy, which is always is in a country's capital city but often not where many expats go to visit or work. Most people will never even see their front door, but you can go there to replace a lost passport or are in trouble, though no one can wave a "magic wand" for you; they can only offer advice and a friendly face.
Noting that her Los Angeles constituency also covers Arizona, Utah, Hawaii, Nevada, American Samoa and the U.S. Pacific territories, as well as providing an umbrella for the British Council, Visit Britain and the British Film Commission, it was clear that a friendly face is a vital part of what Dame Barbara and her team do. "My alarm goes off at 6:15," she said, "and I take fifteen minutes to think about the day ahead before I get up. Every day is different, every day is an adventure, and I'm here to promote the U.K., to create relationships, and to open doors between the U.S. and the U.K. We're each other's largest investors for example — huge compared to even what you hear about Chinese investment — with a million people working for British companies in the U.S., of which 80,000 jobs are here in California, and then a million Brits working for U.S. companies in the U.K. It's fantastic to be part of that."
Her private residence — designed by Wallace Neff in 1928 — may have a small swimming pool and a gorgeous garden, but make no mistake: this is a working building, playing host year-long to events, receptions, parties and ceremonies for thousands of people, all of whom are welcomed by Dame Barbara: "It's super-exciting when anybody walks through my front door. Everyone has a story, and everyone wants to be here. They're here for a reason. They're doing good things for our economy and I want to salute them."
A life-long diplomat, Dame Barbara Hay DCMG LVO MBE is used to "living above the store," and made her first trip to L.A. after being selected to be the first female Consul-General posted here, though a look in Who's Who shows that this is not her only "first." "Yes, it happens that I was the first female [Consul General] in Istanbul, the first in Leningrad [subsequently St. Petersburg] after the 1991 coup and the first female ambassador in Tashkent, but I've never even thought about it. I don't know what it's like to be a male ambassador, so really I'm just doing a job."
Diplomacy is less of a boy's club now. "When I started, woman had to resign on marriage," she said. Dame Barbara didn't expect any big surprises in Los Angeles, as she was used to large cities like Moscow and Istanbul: "I'd come to do a job, creating investment and jobs in Britain, but there's more here than just Hollywood, though the creative industries are tremendously important to us. There's life sciences, banking, advanced engineering, clean energy, ICT and more. But then there was the multicultural nature of Los Angeles, the remarkable contrasts of it, and I had no idea then a Northern Irishman, William Mulholland, bought water to the city. Or that Griffith Park and Griffith Observatory were endowed by a Welshman, Griffith J. Griffith, or that a British architect, John Parkinson, designed City Hall and Union Station — such a strong connection that Britain has to the fabric of Los Angeles. As for the endless good weather, I've done so much time in cold weather countries that I can't be seduced by it!"
She joined the diplomatic service "by accident," and her career started when the head master at her Edinburgh school announced the German class was full, and asked if she wanted to join the empty class learning Russian: "I wouldn't have said boo to a goose then, so I agreed to join. And then later my teacher showed me a newspaper advertisement looking for people to join the diplomatic service and I said 'What's the diplomatic service?'"
She was assigned to the British Embassy in Moscow in 1975 as a Third Secretary, "right during the height of the Cold War. You were followed periodically, the walls had ears, the phones were bugged. You couldn't travel 25 miles outside Moscow without permission – 48 hours in advance."
She then spent time in Johannesburg, London and Montreal before returning to Moscow as First Secretary for Information, and a few years after, when the Soviet Union crumbled, she literally reopened the British Consulate-General in St. Petersburg in 1991: "It was just me, three suitcases, and my office was a hotel room."
After more time in London she was appointed Ambassador to Uzbekistan. "It was astonishing to be in Central Asia, in a new country emerging out of the Soviet Union," and she remembered a rare occasion in those days, when Brits came knocking: "I'd only been there a month when six bikers turned up. They'd had a major problem with one of their bikes, and my colleague had seen the Union Jacks on their jackets and bought them to my tiny little house — and they hung out for a week! They sent me a postcard from everywhere they went after that: China, Japan, North and South America."
Then there was the posting as Consul General in Turkey following the 2003 terrorist attack that killed previous incumbent Roger Short: "It was a strange experience having a bodyguard and an armored vehicle, and a truly humbling experience rebuilding where 12 people had been killed and over 100 injured, where main buildings on the compound had been demolished, and having to get business moving. It taught me a great deal about the resilience of people despite great tragedies."
Around 500,000 Brits visit Los Angeles every year, and social media has changed the world of diplomacy for them. Everything a traveler to the U.S. might need is online — visa information, travel warnings — and is kept scrupulously up-to-date, even if Dame Hay admits that she herself is a "an off-and-on tweeter."
Outside of work and time permitting, Dame Barbara likes to keep a low profile. She says NT Live "changed her life," likes to visit the Huntington Gardens in Pasadena, and is a passionate user of L.A.'s notorious public transport – "you just have to be organized and have a little bit of time. However, she never drops her name in a restaurant: "Oh never, ever, ever. I would be ashamed of myself if I did that. I'm Scottish, we're egalitarian. When I'm out for a bit of fun I don't want fuss."
As for the hardest part of the job, Dame Hay had three words: "Arriving and leaving. And it never gets any easier. But I've been doing this for a very long time, and I've got used to it. There's wonderful variety and great people, and it never palls, but when I travel I take my home with me, and I'm a terrible packer. I'm also terribly sentimental."
A life of travel means she doesn't necessarily miss too much from the UK. But she does fondly remember "going for a blow," meaning a walk on a rainy, windy day on the beach or to a cliff top in East Lothian. The pleasure of climbing the Blackford Hill in Edinburgh and seeing the city, the River Forth and the Hills of Perthshire from the summit makes her wonder why one would live anywhere else. "And then on a cold, dreich February day when its horizontal sleet, you might change your mind," she adds.
As for the future, Dame Hay is thrilled to be going back to London. "I want to be there while I still have the energy to enjoy it," she says, "as I think it's the most extraordinary city on the planet. I also need to catch up with my very long-suffering friends and family, because I'm a hopeless correspondent!" She hasn't started packing yet though, and with time running out, she still hasn't visited San Diego Zoo or Disneyland. "You always got to leave something to do, so that you can be lured back," she says. "That's important."
As for one of her first duties on arrival back in Blighty, that's something she's already taken advice on.
"A hairdresser! I spoke my hairdresser here, and she's got a friend in London!"
Read More
Filed Under: