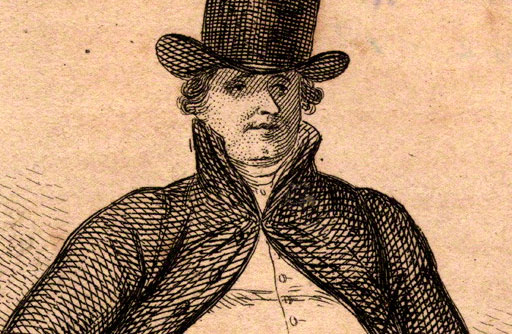 This Monday (July 8), at 10 pm/9c, BBCAMERICA undertakes a terrifying journey upwards, outwards, overwards and inwards, in Dangerman: The Incredible Mr Goodwin.  Jonathan Goodwin is your guide, and he'll be undertaking all manner of daring feats, to provide thrills, chills and probably a few laundry bills too.
He takes his place as one of a long line of enterprising daredevils that stretch back through time. Here are just a few of Jonathan's British forebears in endurance, courage and, yes, craziness:
Philip Astley
An astounding horseman, Philip came out of the 18th century British army with a dazzling array of tricks, and the entrepreneurial drive to show them off. The only trouble was, as all the other horsey show-offs already knew, riding your horse in a straight line past the audience only gave them a fleeting glance at the action. His solution was to place everyone in a circle around an arena, into which he rode, ready to show off. And lo, the circus was born.
Alan Alan
In 1949, inspired by his hero Harry Houdini, the British escapologist Alan Alan attempted to cheat death by having himself buried in a grave – from which he would cunningly emerge – with just a thin sheet of cardboard to protect him. How did it go? Erm…
Martin Lacey 
Everything you need to know about "The Man Fear Forgot," "The King of the Ring," and his (sometimes controversial) antics with big cats, can be summed up in this image, taken from one of his circus adverts in the 1970s:
David Straitjacket
Literally a born escapologist, if his surname is anything to go by, David is also inspired by Houdini, albeit more recently, and accepts challenges from people, who lock him up in all manner of hazardous circumstances – like this rollercoaster trick – and dare him to wiggle his way free.
Dame Ellen MacArthur
Ellen's achievements on her own, in a boat, for days on end, in some of the most treacherous waters on the planet (and against the clock!), make going over Niagara falls in a barrel seem like a weekend at a luxury spa by comparison.
Sir Ranulph Fiennes
Put simply, think of a place you really would not like to go – because it's too high, too cold or too dangerous – and the chances are the very adventurous Sir Ranulph has already been there, left parts of his body behind, and is planning a return trip at the weekend.
John Evans
Hands up who knew that being a professional head balancer was even a job? John Evans is one. He's 343 pounds heavy, and can balance a 352-pound mini on his head – supported by his 24-inch neck – for thirty seconds.
Gethin Butler
There are feats of strength, feats of daring, feats of idiocy, and then there are feats of endurance. Gethin Butler cycled all the way from Land's End (bottom left of the island of Great Britain) to John O'Groats (top right) without stopping. Normally cyclists manage the 874 miles in about a fortnight, but Gethin left them far behind, by spending a solid 44 hours in the saddle – toilet stops notwithstanding.
Bear Grylls
He may have a name like a Yellowstone barbecue, but this former marine can basically be put anywhere on Earth, and come home again – albeit with the stench of cooked seagull on his breath and elephant wee down his front. Wear gloves when shaking his hand, is our advice.
And finally…This Guy (2013)
Don't try this yourself. Just. Don't.
Read More