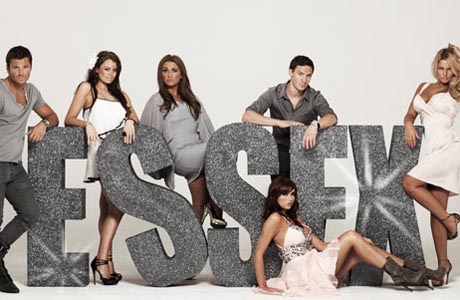 Reality TV is such a beast, coming in all shapes and sizes, whether it be documentary, lifestyle, competition or just plain odd. BBC America offers a range of shows like the extreme Houdini-like Dangerman, Wild Things with Dominic Monoghan, Top Gear, Chef Race, Ramsay's Kitchen Nightmares … should we go on? Well, if that's not enough there are some fun and interesting true life and reality TV programs streaming:
1. The Only Way is Essex
TOWIE is England's equivalent to MTV's Jersey Shore. When you think it couldn't get any worse – and when we say "worse", we actually mean better – it does! Essex has the mentality of the Jersey Shore set in the posh life of The Hills following eight twenty-somethings living the life in the East of England. They do indeed tan and go to the gym but would never dirty their hands with laundry. TOWIE refreshingly points out some scenarios have been pre-arranged versus American reality producers and stars who consistently deny any scripting.
Watch The Only Way is Essex on Hulu.com.
2. How to Look Good Naked
This show isn't as naughty as it sounds but is meant to encourage men and women to embrace their naked figure and learn how to use clothes in a flattering way versus camouflaging. The show refrains from suggesting cosmetic surgery or weight-loss as do other makeover shows. There is one hurdle as all the participants have to strip down to their knickers on camera as a way to desensitize body concerns and remove the fear of being seen nude. This sounds like an episode of Fear Factor!
Watch How to Look Good Naked on Hulu.com.
3. Undercover Boss UK
Owners, CEO's and heads of company go to their own businesses and take on different level jobs. They get to rub elbows with employees and see what exactly goes on. Even though cameras are rolling, employees tend to be forthcoming with their thoughts on the company. They definitely don't hold back. Typically the owners are pretty impressed and the employees are shocked when they find out they have been "duped".
Watch Undercover Boss on Netflix.
4. Stephen Fry in America
Stephen Fry tours the U.S., visiting 49 out of 50 states, mostly in a London cab. This fun fact may be new-to-you, Fry was almost born in the U.S. What exactly does that mean? His father was offered a job at Princeton University, in New Jersey, right before Fry's birth. But he ultimately turned down the offer. Could you even imagine Fry with an American accent? Well, we don't need to … him and all his Englishness allow us to see the U.S. through a different perspective.
Watch Stephen Fry in America on Hulu.com.
5. Dragon's Den
If you've tuned-in to ABC's Shark Tank on Friday nights then you're pretty much up to speed on Dragon's Den as it's the UK version. Budding entrepreneurs have the opportunity to present their business plans to industry experts. At the end of their presentation, some more prepared than others, the experts deliberate as to whether or not they want to support their efforts financially. For some, it's a game-changer. And, others, it's cringe-worthy.
Watch Dragon's Den on iTunes.com.
What's on your playlist? 
Read More
Filed Under: