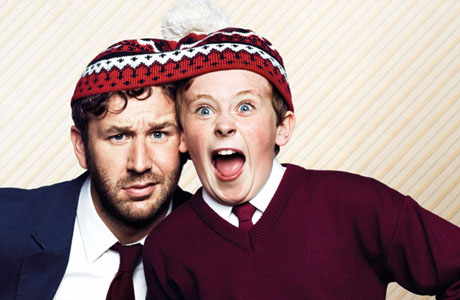 At the end of the day, it's all about family … like it or not. These family comedies may give you a new appreciation for your own!
1) Moone Boy
Created, co-written by and co-starring Chris O'Dowd, this semi-autobiographical Irish sitcom originally aired on Britain's Sky TV. The series is coming to Hulu.com exclusively, premiering on Wednesday, July 10. The show follows Martin (David Rawle), the youngest of a quirky family, as he makes his way with the help of his imaginary friend Sean (O'Dowd).


Watch Moone Boy on Hulu.com (July 10!!).
2. Gavin and Stacey
Gavin (Mathew Horne), who lives in Essex, England, and Stacey (Joanna Page), who is from Barry in the Vale of Glamorgan, Wales, had a long distance phone relationship before even meeting in person. The show follows the dynamic between the young couple and their well-meaning but nosey, friends and family.

Watch Gavin and Stacey on Netflix. 
3. As Time Goes By 
Lionel (Geoffrey Palmer) finds himself with a new family when he reunites with his old flame (Dame Judi Dench) and moves in with her and her grown daughter (Moira Booker).

Watch As Time Goes By on Amazon Instant Video. 
4. Inbetweeners
Four best mates — Will McKenzie (Simon Bird), Neil Sutherland (Blake Harrison), Jay Cartwright (James Buckley) and Simon Cooper (Joe Thomas) — navigate school and home life. They aren't children but they aren't quite adults … they're inbetween.


Watch Inbetweeners on Netflix.
5. The Young Ones
You don't necessarily have to be related to be a family. This series revolves around four very different flatmates who make up one unique unit.

Watch The Young Ones on Amazon.com Instant Video.
What's on your play list? 
Read More
Filed Under: