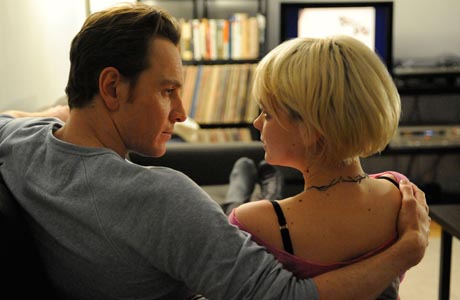 These days it's difficult to determine what in fact is considered "indie" with a lot of smaller film companies actually falling under the umbrella of one of the "big bad" Hollywood movie machines. With that said, we turned to BAFTA for a little help, perusing their list of nominated (sometimes winning) independent films. And, here's what we found streaming:
1. Shame
Sissy (Carey Mulligan) has no place to stay and barges in on her brother Brandon (Michael Fassbender) in the UK Film Council's Shame, directed by Steve McQueen. She has been incessantly trying to get a hold of him, coming across as a scorned lover. In the meantime, he's been extremely busy having paid-for-sex, daydreaming about sex and getting himself out of trouble for spending his work life online surfing sex sites. The film is sex-fueled but comes across as soft, quiet and fragile — the lack of dialogue welcomes viewers to fill in the blanks. Sissy searches for familial comfort while Brandon craves isolation.
2. Nowhere Boy
Nowhere Boy gives us a look at John Lennon (Aaron Johnson) as a budding musician in his formative teenage years. He was raised by his aunt (Kristin Scott Thomas), and Lennon himself doesn't really know how he ended up with her. But during this time Lennon is reunited with his mother (Anne-Marie Duff) and befriends a musically inclined young lad by the name of Paul McCartney (played by Thomas Brodie-Sangster), who ultimately becomes his Beatles bandmate. This was director Sam Taylor's feature-length film debut.
3. Dead Man's Shoes
Richard (Paddy Considine) cares for his younger brother Anthony (Toby Kebbell) like he's his own. When Richard finds out the local thugs brutalized Anthony while he was away in the army, he is taken over with rage. He has one thing on his mind and it's getting revenge. This psychological thriller is terrifyingly real. Directed by Shane Meadows, this film was shot in just three weeks.


Watch Dead Man's Shoes on Netflix.
4. The Imposter
British filmmaker Bart Layton investigates the homecoming of a teenage Texan boy who was kidnapped three years earlier. But, bizarrely, the family soon realizes he is not their son but a French conman impersonating the missing boy. The first question that comes to mind is, "How could someone do this?" followed by, "Why would someone do this?" The film takes us through this heartbreaking betrayal of trust, examining human nature and getting to the answer.
Watch The Imposter on Netflix.
5. In the Loop
Director Armando Iannuci's dark comedy is a film spin off of the BBC series In the Thick. In the film the U.K. and U.S. are debating invading the Middle East but not everyone is on board. Minister for Social Development Simon Foster (Tom Hollander) slips during a BBC Radio interview, saying war in the Middle East is "unforeseeable" rather than staying neutral. He makes matters worse when trying to undo his mess up when saying there may be a need to "climb the mountain of conflict." Steve Coogan portrays a fed up British constituent and the late James Gandolfini plays the very unbendable U.S. Lieutenant General.
What's on your playlist? 
Read More
Filed Under: