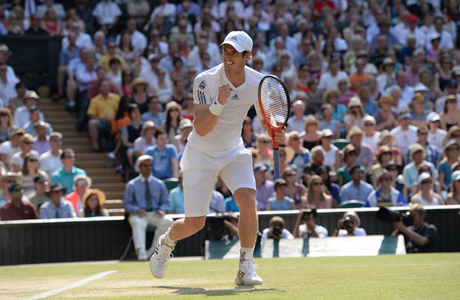 Scottish tennis player Andy Murray has defeated a clearly sapped Novak Djokovic to win his first Wimbledon title in straight sets, becoming the first British man in 77 years to claim a Grand Slam singles title on the home grass.
The last time a British man hoisted a Wimbledon trophy was in 1936, when Fred Perry defeated German Gottfried von Cramm to win the Slam. Murray had a shot just last year to end the drought, making the men's final but losing to the resilient Swiss veteran Roger Federer. Later that summer, Murray avenged that loss in a rematch with Federer on the very same grass at the 2012 London Olympics, winning the gold medal for the U.K. He followed up that milestone with his first Grand slam title at the U.S. Open.
Murray had a better chance than ever this year for an historic Wimbledon win: early round losses from Federer and French Open champ Rafael Nadal removed two major obstacles. Djokovic provided the sole major impediment: he's No. 1 in the world and a Wimbledon champion himself in 2011. But a punishing, five-set semifinal against Argentine Juan Martin del Potro left the Serb looking worn on today's stage. And that is not to take anything away from Murray's performance: the Brit was in the zone in terms of his service game, and when Djokovic put the pressure on him, Murray reacted with finesse and skill.
The response from Britain has been ecstatic, and celebrities have taken to Twitter to congratulate Murray on his achievement. Fellow Scot John Barrowman recorded his own reaction to Murray's match point:
What do you think of Murray's victory? Tell us below:
Read More
Filed Under: