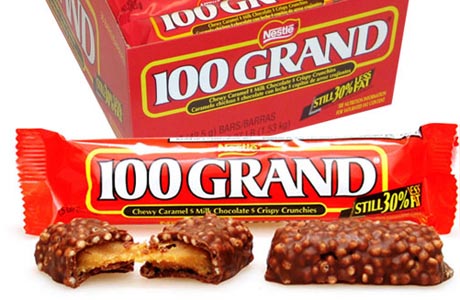 It's a cliché that Brits have notoriously bad teeth, and whether that's true or not (thank you Austin Powers!) it is true to say that they're renowned for their very sweet teeth. That love for chocolate is always borne out by the figures; the average Brit eats around 10kg of chocolate per year, with Europe as a whole consuming nearly 50% of the overall world total.
That's a tasty bite of the $80 billion or so dollars spent on it every year, and Brits only lack a little behind Switzerland in the stakes, with the Germans the craziest for choccies with about 11 kg per person, per year.
In the U.S., 2008 figures showed that the average American eats less than half the chocolate Brits do — and perhaps that's because with high-sugar deserts like cookies, brownies and cupcakes, it's not as big a treat (or a snack) as Brits see chocolate. That said, when any new Brit arrives in the U.S., they're confronted with a dazzling array of colorfully wrapped choices — and some very strange names (Oh! Henry, Mr. Goodbar, Whatchamacallit and Baby Ruth).
U.S. companies like Hershey do make Cadbury's favorites here, but almost every Brit says that it's "not quite the same," whether that's because of more/less milk, too much/too little sugar/high fructose corn syrup. Some of the bars you already know you won't even see, except in specialist British or Irish stores, though you will recognize some of the ones that were re-named years ago in the U.K. (Starburst, which used to be Opal Fruits, and Snickers, which used to be called Marathon), while some are just in slightly different packaging (Kit Kat, Twix, Milky Way).
Easter faves are often available — Crème Eggs, Mini-Eggs, Chocolate Orange (though sadly not Matchmakers at Christmas) — but since Easter isn't such a choc-fest as it is in the U.K., you'll need to stock up when you see them on the shelves. Still searching for that elusive Yorkie USA, I did a taste-alike test. Many bars have peanuts or almonds in them, which is bad news for anaphylaxis sufferers like me, so I'm passing the baton to you Brits with some of my top choices:
U.S. Name: 100 Grand     Tastes Like: Toffee Crisp/Picnic        Grade: B+
U.S. Name: Mounds          Tastes Like: Bounty                              Grade: A-
U.S. Name: Whoppers      Tastes Like: Maltesers                         Grade: B-
3 Musketeers tastes a lot like Milky Way (though the Milky Way you can get here often tastes like a Mars bar) and would get a B, whereas Hershey's chocolate bars are good in a pinch for a general chocolate boost (B+).
There will be many regional variations too, but the best overall advice for Brits is: next time you fly back to Blighty, bring home as many of your favorites as you can!
Join us Friday, July 26 at 1 pm ET on Twitter for a #MindTheChat on the best and worst of American food items. Click here to start the conversation.
Read More
Filed Under: