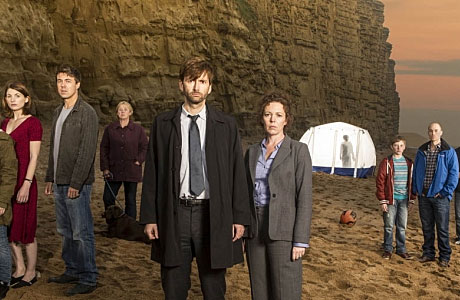 It's remarkable that there are quite so many points of commonality between the reality depicted within Broadchurch, and the Whoniverse, even taking into account the size of the British acting industry, and the high turnover of talent within Doctor Who and associated shows.
So, without giving any plots away, here's a list of people that should already be familiar to Doctor Who fans, when Broadchurch airs on BBC AMERICA in just over a week.
Let's start with the most obvious point of commonality of the lot, shall we?
1. David Tennant (The Doctor, Doctor Who; DI Alec Hardy, Broadchurch)
You already guessed this one, right? Actor fella. Looks good in a suit. And we can throw the other famous Whovian in there as well, before we really get down to business.
2. Arthur Darvill (Rory Pond, Doctor Who; Rev. Paul Coates, Broadchurch)
So, who else has appeared in both shows? How about one of our favorites?
3. Olivia Colman (Mother, Doctor Who; DS Ellie Miller, Broadchurch)
Not just a ferocious talent, but the best giver of acceptance speeches in all of British thespian life.
4. Chris Chibnall (Writer, Doctor Who, Torchwood; Writer/Creator/EP, Broadchurch)
Whovians will already know Chris as the writer of the recent adventures "42," "The Power of Three," "Cold Blood," "Dinosaurs on a Spaceship," and "The Hungry Earth," and of course Broadchurch is his baby. So much so that he's also the executive producer.
5. David Bradley (Solomon, Doctor Who; William Hartnell, An Adventure in Space and Time; Jack Marshall, Broadchurch)
A triple crossover for the man Harry Potter fans know as Argus Filch. Not only did he play the space privateer Solomon in Chris's own story "Dinosaurs on a Spaceship," he's also playing William Hartnell as the First Doctor in An Adventure In Space and Time, the forthcoming Mark Gatiss dramatization of the early days of Doctor Who.
6. Euros Lyn (Director, Doctor Who; Director, Broadchurch)
Fans of Doctor Who Confidential will remember Euros as a veteran director of various Doctor Who adventures since the show was relaunched. And he also directed an episode of Broadchurch. But you'll have to watch it to find out which one.
7. Simon Rouse (Hindle, Doctor Who; Len Danvers, Broadchurch)
A throwback to classic Who here. Simon played the somewhat grumpy Hindle, in "Kinda," the Fifth Doctor tale of snakes and psychology.
8. Tracey Childs (Metella, Doctor Who; CS Elaine Jenkinson, Broadchurch)
Broadchurch isn't the first time Tracey has worked with David Tennant. His Doctor once saved her matriarchal Metella, and family, from being buried under volcanic ash in Pompeii.
9. Sanchia McCormack (Housing Officer, Doctor Who; Nicky Smith, Broadchurch)
Donna Noble isn't moving her family to Leeds in "Turn Left" during that whole alternative reality sequence where the Doctor has died and the Earth is unprotected. Sanchia McCormack is the reason she has to.
10. Simon Ludders (Patient, Doctor Who; Trevor Smith, Broadchurch)
Remember when the Doctor and Rose visited that alien colony with the cat-faced nurses and the Face of Boe in "New Earth?" Simon was one of the patients they cured.
11. Matthew Gravelle (Doctor, Torchwood; Joe Miller, Broadchurch)
If you've seen the Torchwood story "End of Days," you'll have seen Matthew as one of the doctors facing imminent destruction. Not one of THE Doctors, you understand, just A doctor.
12. Susan Brown (Bridget Spears, Torchwood; Liz Roper, Broadchurch)
Meanwhile, in Torchwood's similarly apocalyptic "Children of Earth," Bridget Spears is secretly recording plans to blame an entire thwarted alien takeover of Earth on America, using secret contact lenses. It worked too.
13. Andrew Buchan (Scott Foster, Party Animals; Mark Latimer, Broadchurch)
OK, this is stretching the point a little, but he did play Matt Smith's brother in the political drama Party Animals, so you can at least credit him with racking up Doctor points.
Read More
Filed Under: