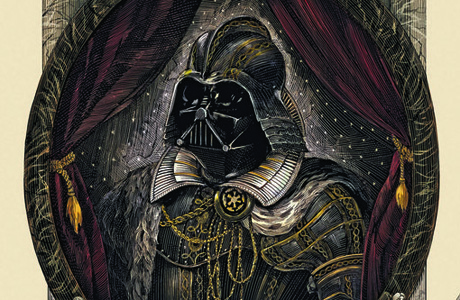 Maybe we just have Darth Vader on the brain after coming across this less-than-menacing Lego Vader, here (scroll down). But, apparently, it's not just us. EW.com is reporting that first time author Ian Doescher has mashed-up two iconic pieces of work resulting in William Shakespeare's Star Wars. The unique hybrid is available online and in stores on July 2. Doescher has reimagined George Lucas's Star Wars — sticking to the original storyline — using Shakespeare's splendid iambic pentameter.
Here's a brief excerpt from Scene 1, Aboard the Rebel Ship: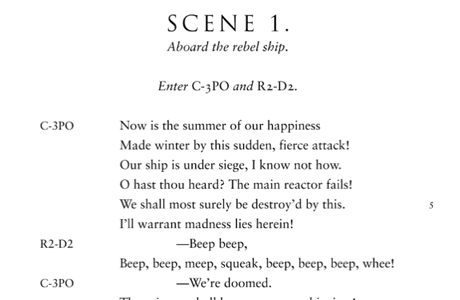 And, if that isn't enough for you, the book even has illustrations: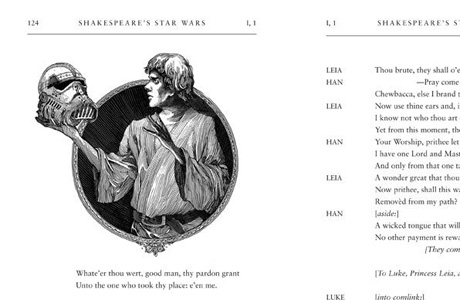 Here are some advance reviews, which appear on Amazon.com:
"Whether your tastes run to Alderaan or Avon, this reimagining of Star Wars overflows with heart and wit."
—Jason Fry, author of Star Wars: The Essential Guide to Warfare
"Well-read geeks have breathlessly waited
For what Ian Doescher hath created
This book's cover is the door
To a Star Wars ne'er seen before"
—Daniel Wallace, New York Times best-selling author of Star Wars: The New Essential Guide to Characters
Doescher writes on his website, called I Like Telling Stories, how he came up with the idea: "In the spring and summer of 2012, Ian read Quirk Books' Pride and Prejudice and Zombies, watched the Star Wars trilogy for the millionth time, and attended the Oregon Shakespeare Festival with his family. At the Festival, Ian saw the funny, gay-marriage-themed, modern adaptation The Very Merry Wives of Windsor, Iowa by Alison Carey.  Within this span of a few months, Ian had mashups, Star Wars, and Shakespeare on his mind. The morning after watching The Very Merry Wives of Windsor, Iowa, he had the idea to write William Shakespeare's Star Wars."
And, there you have it. Easy as that. Here's the full cover with all the fun bits:
Doescher has extended an invitation to his book launch party via Twitter. It sounds like audience members will take part in the reading. Inventive! Are you going to be in Portland, Oregon?
Three weeks till book day – wonders never cease! /Are you in Portland? Come to the release… facebook.com/events/4702194…

— Ian Doescher (@iandoescher) June 11, 2013
Have you pre-ordered your copy yet? 
Read More
Filed Under: