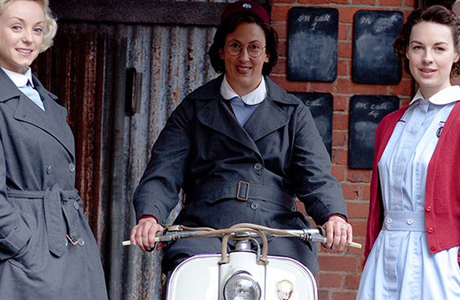 The cast members of Call the Midwife can do more than just deliver babies.
The hit British series, which airs on BBC in the U.K. and concluded its second season last month on PBS in the U.S., features a large ensemble cast of 11 main players plus Vanessa Redgrave, who is heard only in voiceover.
The period drama's popularity on both sides of the Atlantic means that its cast is now in demand, particularly the younger members. While veteran cast members like Jenny Agutter (who plays Sister Julienne), Pam Ferris (Sister Evangelina) and Judy Parfitt (Sister Monica Joan) have long established careers in London, there's been speculation in the British press that the younger stars of the show may be tempted, as were Downton Abbey's Dan Stevens and Jessica Findlay Brown, to depart Midwife for the bright lights of Hollywood.
Fear not, the regulars will all be back for Midwife's third season, though what happens after that is unclear. Both Jessica Raine, who plays nurse-midwife Jenny Lee, the show's earnest heroine, and Helen George, who plays flirtatious nurse-midwife Trixie Franklin, are known to be interested in testing their luck in bigger projects.
Here's a rundown on future prospects for Midwife's younger stars:
·      Jessica Raine, 31, has a Tardis in her future. The actress, who had smallish roles in the films Robin Hood and The Woman in Black before landing the lead in Midwife, has already finished filming on An Adventure in Space and Time. That's the BBC TV docudrama about the creation of Doctor Who; it is scheduled to air in November pegged to the popular sci-fi show's 50th anniversary. Raine will portray Verity Lambert, Dr. Who's first producer.
   The actress is already a veteran of the Who franchise, having appeared earlier this spring as psychically-gifted Emma Grayling in the "Hide" episode of the show.
(Fun fact: Raine and her live-in beau, actor Tom Goodman-Hill, were in back-to-back shows on PBS this spring when Midwife aired Sunday nights just before Mr. Selfridge, on which he played Mr. Grove, the red-bearded store manager.)
·      If there's a breakout star of Midwife, it's Miranda Hart, 40, who plays galumphing but warmhearted nurse-midwife Chummy Browne Noakes. The gifted comic actress also stars in her eponymous BBC sitcom, Miranda, which recently concluded its third season earlier this year.
She currently is promoting her humorous self-help memoir, Is It Just Me?, which is out in paperback June 6, by speaking before book groups and at literature festivals. And, after filming the third season of Midwife, she will begin a stand-up comedy tour, named "My, What I Call, Live Show," next February. "Expect galloping, attempts at song and dance, and simply – such fun!" promises her web site.
(But wait, there's more. Hart was recently voted–talk about big honors!–the celebrity with whom British citizens would most want to share a meal, according to a survey commissioned by The People Who Share, a charitable group hyping June 2 as Global Sharing Day. Runners-up to Hart, in order, were Barack Obama, Queen Elizabeth II, Kate Middleton and Helen Mirren.
·      Blond Helen George, 30, is the Midwife actress who has talked most freely about harboring Hollywood ambitions. While on hiatus from the series this spring, she spent time in Los Angeles with her husband, actor Oliver Boot (Holby City), taking meetings and auditioning for possible parts. "If we got work [in L.A.] it would mean quite a commitment, but we'd be happy to relocate the dogs," she told the Daily Mail last January, referring to the couple's two pet pooches. No word yet on whether George landed a new role.
·      It is expected that Bryony Hannah, who plays meek nurse-midwife Cynthia Miller, will have a long career as a supporting actress in TV, on stage and, possibly, in films. At 26, the Royal Academy of Dramatic Arts graduate is the youngest of Midwife's major cast members. She came to the series after wowing critics with her performance alongside Keira Knightleyand Elizabeth Moss in a West End revival of The Children's Hour in 2011. In interviews at the time, she said she had no expectations of or interest in becoming a major star. More recently, in an on-line, PBS-sponsored chat with Midwife fans last April, she struck an equally modest tone: "I have grown a lot through working on the show. As an actress it has been brilliant to learn how to work on a film set – it is a different discipline to the stage. And as a person I've made friends for life and hopefully grown a bit in confidence."
·      Laura Main, 32, who plays the ex-nun-midwife formerly known as Sister Bernadette, is featured prominently on the Call the Midwife musical CD, which was released in the U.K. in March. She is the main voice heard when the show's nuns sing religious music, and several of those tracks are included on the album.
A veteran of London's Royal Shakespeare Company, the Scottish actress hopes to continue shuttling between stage roles, especially in musical theater, and TV parts (before Midwife, she had a featured role on Murder City). "I love musicals, I love the theatre and I'd never want to not have it as part of my life. It was the thing that I always wanted to do," she told The Sun last month.
For giggles, check out this amusing video spoof of Midwife in which Raine, Hart, George and Hannah all demonstrate their comic range. It aired last March as part of BBC's Red Nose Day charity fundraising effort:
Which of the Midwife actresses do you expect will become the biggest star? 
Read More
Filed Under: