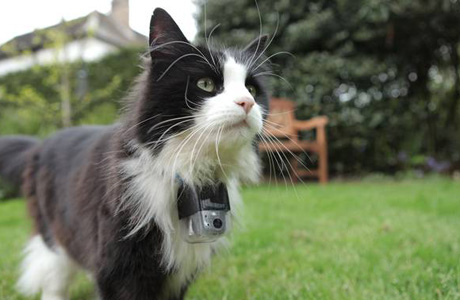 Horizon examines The Secret Life of the Cat.
What's on: Horizon
What is it: With 49 seasons and over 1,100 episodes produced, this long running documentary TV show has explored countless scientific topics and their effects. The latest episode topped the ratings, landing in the number one spot and what was it on? Cats! Or, "moggies" as Brits call mix-breed cats. A team of experts fitted 50 cats with GPS tagging devices to monitor their movements.
Air-date: May 2, 1964 – present on BBC2
Who's watching: 5.15 million Brits
Why so popular: This unique experiment reveals cats' secret journeys, how they live together, hunt, fight and strategize to get along. Basically, it answers the question, "What do cats get up to when we're not around?" There are over 10 million cats in the UK with a huge concentration in the South East of England. Even though domesticated felines are extremely popular, scientists know little about them.
American counterpart: PBS's Nova was created in 1974 based on the Horizon model.
Two cat scientists, Dr. John Bradshaw and Dr. Sarah Ellis, head to the village of Shamley Green in Surrey to recruit cats for the study. Is it just us but do you picture a cat at home, reading the morning paper, thinking to himself, "Hmm, a study, that might be interesting. Sign me up!" Okay, we admit, it's probably just us. But, it does pique our curiosity on how the cat scientists find volunteers. The clip below includes a town meeting, the technology used to track the cats and some of the findings:

This interactive map allows you to click on a cat and follow their journey, here.

Fans have chimed in via Twitter:
@davidshukmanbbc @BBCWorld #cats a very interesting, different and freshest story I have watched on TV in a very long time!

— Saddique Shaban (@SaddiqueShaban) June 13, 2013
Feline expert Dr. John Bradshaw, who carried out the research, told the BBC: "The owners think they own the cats but in fact it is the cats who own the owners."
Are you a cat person!?
Read More
Filed Under: