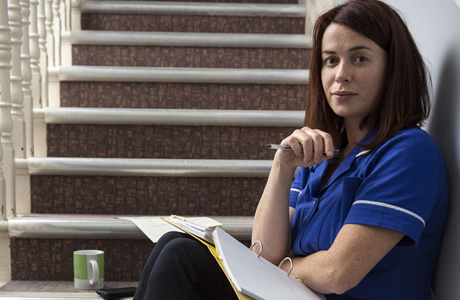 Gwen Cooper hangs up her leather jacket for scrubs in BBC1's Frankie.
What's on: Frankie
What is it: Six, 60-minute episodes, follow Frankie Maddox (Eve Myles) who works as a district nurse set in Bristol, England. Frankie goes above and beyond caring for her patients making in-home visits but completely ignores her personal life. While the show deals with terminal illness and other health issues, it does have its funny moments. And, us being Anglophiles, it's fun to get in the car with her and take a drive around Bristol as she visits patients.
Air-date: May 14, 2013 – present on BBC1
Who's watching: 4.71 million Brits
Why so popular: Whether you "live to work" or "work to live," watching people work their bum off on TV is kind of a relief when you're "off-the-clock" and on the couch. Professor George Ikkos, president of the Royal Society of Medicine's psychiatry section, says people get hooked on medical dramas, "more to do with learning about ourselves from other people" versus wanting to watch people in discomfort, reports BBC News.
American counterpart: Showtime's Nurse Jackie … minus the pills.
In the Season One opener we find Frankie in bed with her fiancé. Well, she's not doing too bad in terms of a social life. Frankie makes a home visit to an elderly patient suffering from dementia who points out she has a "funny sort of job." Frankie cheekily answers back, "Well, I'm a funny sort of woman." She makes her way to the office and we get to meet her coworkers. Here's the first ten minutes of Episode One:
As predicted, Frankie has to choose between her fiance and a patient. After ditching her guy, he goes missing for two days and he finally comes back giving her a go, saying, "So, you can go missing and I can't?" He has a bit of a hissy fit, saying, "You treat me like I'm a nobody. A nothing. Like I'm a side-show to your great life." Maybe he should get a pet? Well, he doesn't take long to move on. Here's the first ten minutes of Episode Two:

You can watch full episodes, here.
Director Steve Hughes is a fan, tweeting:
Tuesday night… is #Frankie night.

— Steve Hughes (@moviegoblin) June 11, 2013
This viewer can relate to Frankie and her officemates:
Ha! My old manager at call centre I used to work at with Alan Carr is the pretty not-pregnant girl on #frankie #callcentreofdreams 🙂

— Shappi Khorsandi (@ShappiKhorsandi) June 4, 2013
Not everyone is a fan with Radio Times writer Alison Graham, saying, "I felt as if I'd been trampled almost to death by Care Bears."
What'd you think so far? 
Read More
Filed Under: