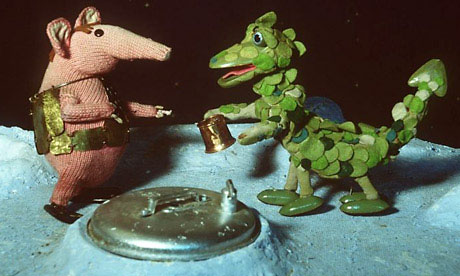 It's every expat's experience at one time or another — get a group of people from the Mother Country together and before long the conversation turns to what you watched on the telly as a kid, what your Saturday job was, and who had the worst school uniform. (Fairly sure it was my sister.) Pretty soon you're all jumping up and down, hands raised, waiting to contribute to the collective trip down Memory Lane, while American friends and spouses stand around giving each other the Look. "Oh here they go again," they're thinking, almost patting us on the head like indulgent parents.
As expats, do we experience more pangs for things long gone because we're so far away from where we grew up? Very probably. I rarely see family members in the U.K. getting all verklempt about ancient telly programs unless it's to "out-remember" each other. That's probably in part because every so often, there'll be a reprisal of old TV stuff, such as the 30th anniversary of the Milky Bar kid campaign:
Or the recent Morecambe and Wise memorial plaque erected at Teddington Studios in England, prompting much reminiscing and a yearning for "decent comedy". You can watch the video here.
Some of the telly I grew up with, my American husband and kids can hardly believe was produced, never mind watched. Take the Clangers for example — a family of small, knitted mouse-like characters who lived on a small blue planet far, far away, not unlike the moon in appearance. The females wore dresses and the males wore brass armor, for some reason. They spoke in whistles and whoops (performed on swanee whistles, no less), but managed to communicate their meaning nonetheless, perhaps because of the human voice-over. They reached an even wider audience when featured in a 1972 (February 26) episode of Doctor Who. To my amazement, the Clangers only ran from 1969 to 1972 on the Beeb, but will be with me forever. Mention them to anyone of that era and they will raise their hands to the chest region and either protest their love or tell you about Bagpuss.
http://www.youtube.com/watch?v=KRo8o-86kZE
As some of us witnessed on a recent #MindtheChat twitter chat (June 7th), we even reminisce about food we probably wouldn't touch were we living back in Blighty. There was much talk of Sunday roasts, decent fish and chips and full English breakfasts, yet I don't think I've eaten a full English more than a handful of times in my life, and fish and chips was a rarity due to permanent calorie counting and a dodgy family medical history.
And the weather? Despite the fact that my 2012 visit home was ruined by rain and near freezing weather (Jubilee celebrations anyone?), and every "summer" is a complete crap shoot, all I seem to remember from my childhood are scented summer evenings and the heat wave of '76. Ah yes, for anyone of a certain age, 1976 was the benchmark against which all summers are measured. Never mind the accompanying drought or the daily sunburn, that summer we spent more time at the beach than ever in our lives, stayed out later than our usual bedtime and felt like we were living in, er, well, L.A. or somewhere equally remote and glam.
No, there's something about being thousands of miles from home that makes most of us look back at it all through decidedly rose-tinted spectacles.
Join us Friday, June 28 at 1 pm ET to reminisce on your British childhood. To participate, use the #MindTheChat hashtag.
Read More
Filed Under: