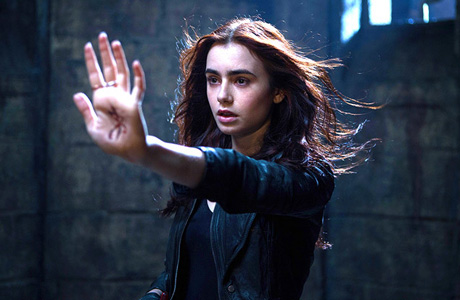 "Everything you've heard about monsters, about nightmares, legends whispered around campfires … all the stories are true." Eek! Clary (Lilly Collins), a seemingly typical girl, is told this this early on in the film adaptation of Cassandra Clare's novel The Mortal Instruments: City of Bones.
Clary meets a young man named Jace (Jamie Campbell Bower) out at a nightclub but is confused why nobody else can see him. She feels like she's losing it but then things get even more confusing when he confides in her that he is a Shadowhunter. It turns out Clary's mom is a Shadowhunter, and Clary is half human and half angel. She possesses some, if not all, of the powers.
Jonathan Rhys-Meyers (The Tudors) stars in the film … but, is he a demon or hunter? To find out, watch the trailer below:
Robert Sheehan, Lena Headey, Aidan Turner, Kevin Zegers and Jared Harris round out the cast with Harald Zwart directing.
The film hits theaters on August 21 in the U.S. and UK.
Have you read the books? 
Read More
Filed Under: