As he walked down the red carpet inside a very humid tent at Man of Steel's world premiere in New York, Henry Cavill was cool, calm and staying on message. "Just focus on success" is the motto that 30 year-old British actor Henry Cavill says he adopts in life — and it's presumably what's guided him in delivering his extremely high profile portrayal of Superman in Man of Steel which opens in the U.S. on Friday (June 14).
Man of Steel is a global franchise that will no doubt give Cavill household name status. There's a lot riding on his performance — the success of a movie estimated to have cost more than 200 million dollars — and the future path of his career.
He says he never worried whether he, as a British actor, could play an iconic American superhero. He says: "I think if you start worrying about that then it's going to have a negative affect on you."
Cavill has clearly given thought to Superman's predicament in the new film. It's an origins story with Superman arriving on Earth from his dying planet of Krypton to be adopted by a Kansas couple who bring him up as Clark Kent.
Superman has a lot of questions in Man of Steel — as the British actor explains: "Who am I, where am I from and what am I doing here? Are these my people, or are they not my people?"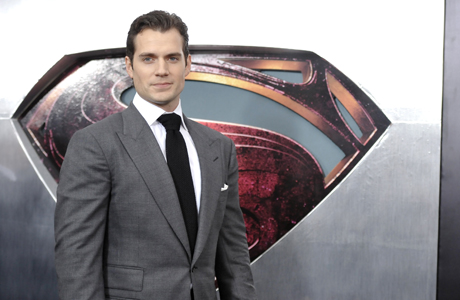 Henry Cavill is now the third British actor in recent times to portray an American superhero after Christian Bale played Batman and Andrew Garfield appeared as Spider-Man.
Jokingly I asked Cavill if there was something wrong with American male actors – perhaps they weren't up to playing superheroes?
In a crisp businesslike manner he responded: "There's nothing wrong with American male actors, young man. What the case is is that we as three actors just happened to fit into the respective director's visions at the time."
Warner Bros. has placed an embargo on reviews of Man of Steel until Friday, although it doesn't appear to be holding. Often when a studio tries to keep reviews of a film under wraps until the very last minute it means it doesn't expect critics to like it. But many think that because the Superman franchise is so strong — and so heavily marketed — Man of Steel is critic-proof.
But Henry Cavill says: "I don't think anything is ever critic-proof. We'll just have to wait and see."
Will you be seeing Man of Steel this weekend? Tell us below:
Read More
Filed Under: