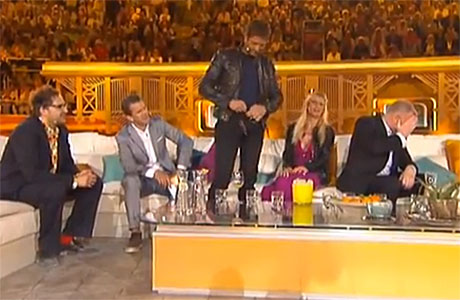 If it were not for the existence of this clip, I would have assumed the contents of this blog post were just the events from a crazy dream about a German TV show, Gerard Butler with a bucketful of ice down his boxer shorts while a man cracks a line of walnuts with his bum.
Actually, it's not, as you will see from this clip, an extract from the dares and challenges TV show Wetten Dass (trans: Bet That) on Saturday night. Having watched the show's host Markus Lanz risk his own coccyx by smashing those walnuts, he gamely has a go himself, before, well I'm not sure words will justice to what happens next:
Do you know the weirdest thing? We already predicted this would happen, sort of. Back in July 2011 we wrote about the greeting how's yer bum for cracking walnuts?, a Scots or Northern Irish way of saying hi, how are you?.
At no point did it seem like an actual challenge, but then TV is a strange place.
Read More
Filed Under: