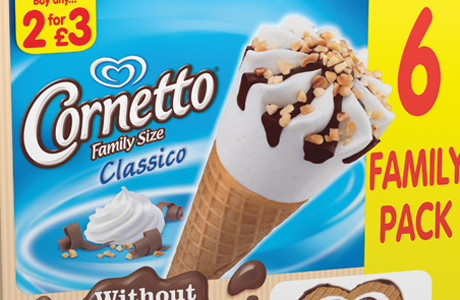 Did Edgar Wright and Simon Pegg have a trilogy in mind when first writing Shaun of the Dead? The pair sat down to talk about how the Cornetto Trilogy came about.
"I guess the idear of it being a trilogy sort of came about as a joke," said Wright in a video interview with IGN.
Pegg explained the origin of the name, saying, "We had this joke in Shaun of the Dead, where Ed (Nick Frost), having a hangover, wanted nothing more than a Cornetto on a Sunday morning."
By the way, just to be safe, apologies if you already know this … a Cornetto is a brand-named British ice cream Drumstick.
"I used to use them as a hangover cure when I was in college," said Wright.
"In Hot Fuzz we had a repeat of that line," said Pegg. With the line being, "Want anything from the shop?" and Pegg, in the cop car, seriously replying, "Cornetto." Pegg goes on to say, "So, then suddenly we had this linking factor in the two films which was the Cornetto."
"That thing, that's now stuck, came up in an interview. They said, 'Are you going to do a trilogy of Cornetto-based films?'" Wright apparently joking answered, "Oh yes, this is our three-flavored Cornetto trilogy. We said it in one interview and it just stuck."
Pegg agreed saying, "We kind of felt slightly obliged to have some sort of Cornetto reference in World's End. It's very throw away but it's there nonetheless."
The World's End is the "unifying" chapter in a series of three films. Watch the end of the story, here:
Great, now we fancy a Cornetto. What about you?
Read More
Filed Under: