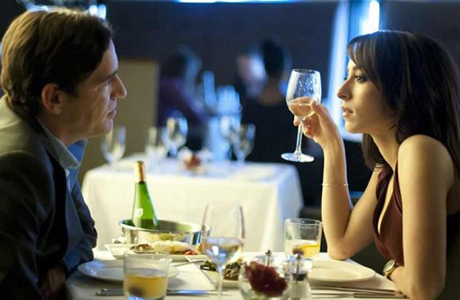 There seems to be two schools of thought on dating with one being, "Yay, I get to meet someone new and do something fun I might not do on my own!" And, the other, and possibly more common, is, "This will be pure torture."
Skins creator Bryan Elsley embraces the universal experience of dating and has come up with a new show simply called Dates, airing tonight on Channel 4 in the UK starring The Hour's Oona Chaplin (recently seen in Game of Thrones).
Elsley talked to the UK Telegraph about the new show saying, "I was trying to think of something that was a little back-to-basics dramatically, that was all about acting."
His teenage drama Skins, which comes to an end this summer, evolved into something complex with car chases and musical sequences. Elsley said, "Although I enjoyed that, I wanted to do something a little bit simpler. And it occurred to me that a date was a very, very simple encounter with a complex outcome."
The series is made up of nine, 30-minute episodes.The early episodes revolve around two strangers, with each episode swapping out two new actors, being brought together on a first date via internet dating. Each episode seems like a one-off story but as the season progresses, the stories become intertwined.
In addition to Chaplin, the cast is rounded out with Ben Chaplin (Thin Red Line), Sheridan Smith (Quartet), Andrew Scott (The Town, Sherlock), Neil Maskell (The Mimic, Utopia), Greg McHugh (Fresh Meat), Will Mellor (Broadchurch), Katie McGrath (Merlin), Gemma Chan (Fresh Meat), Montana Thompson (Story of Tracey Beaker) and Sian Breckin (Tyrannosaur).
Elsley comments on internet dating as a whole, saying, "Ninety per cent of the time it's a totally inefficient way of finding love but it's the 10 per cent that counts."
Is it just us or does dating in London just seem way more enticing? 
Read More
Filed Under: