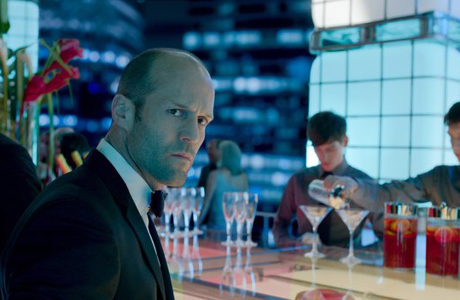 Jason Statham isn't always the easiest man to interview. He certainly doesn't suffer fools gladly, but he seemed in a relaxed amiable mood this week in New York holding forth on his new action thriller Redemption which opens on Friday (June 28).
The film, set in London, is an odd hybrid of reality-oriented drama and the action genre for which Statham is best known. It's written and directed by Steven Knight, who did the screenplays for Dirty Pretty Things and Eastern Promises.
In Redemption, Statham plays a British ex-Special Forces soldier who's returned from Afghanistan in an unraveled state. He builds a new identity, becoming an enforcer in London's criminal underworld. He also strikes up a liaison with a nun.
It looks like Statham is trying to venture into new territory. He's still playing a hard man, but this time around he's emotionally traumatized. Asked if his character is different from what he's done before, Statham says, "Absolutely. He's more damaged, he's more scarred, he's a man who's running away from things that he's witnessed and been a part of."
Statham has always excelled at action films. In this film he may be playing a complicated character who's more than just a brawny he-man, but the British actor insists he's not trying to become someone he's not.
He says: "Everyone's got their own path. It's no good me looking at Daniel Day-Lewis and trying to emulate him — he's so unique and so brilliant it would be stupid to follow the footsteps of someone like that but you do get inspired by their work."
Jason Statham travels a lot for his work — he's a man of straightforward tastes — he says what he misses most about Britain is "beer and a good group of pals."
Read More
Filed Under: