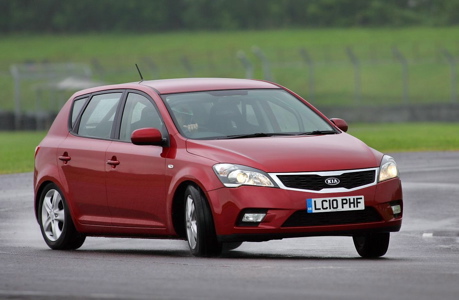 Top Gear is saying goodbye to the Kia Cee'd. For the past five seasons, the Korean small-sized family car has been the show's exclusive budget auto for its famous Star in a Reasonably Priced Car segments. Celebrities like Tom Cruise, Cameron Diaz, will.i.am, and Rupert Grint have all taken turns behind the wheel.
The decision on what car will replace the Cee'd will be announced later this month, and, as speculation runs rampant, all bets are on. Literally.
Bookmaker William Hill is taking wagers until this Friday, June 7, on the manufacturer of the chosen vehicle. As of midweek, Kia's sister brand, Huyndai, is leading the pack with odds of 3/1, followed by Renault's Dacia line at 5/1, Suzuki at 6/1 and Proton at 7/1.
The Sunday Times Driving section offers some details to explain the odds.
The paper says that Hyundai's i20 hatchback is smaller than other contenders but has a price tag of under £10,000 ($15,400), while Dacia has two models that could attract interest from the show: the the Sandero, a hatchback, that starts at about £6,000 ($9,250), and the duster, an SUV that costs roughly £9,000 ($13,870). The Sandero is also known as one of James May's favorite cars.
The Sunday Times tried to get comment from the possible car companies, but spokespeople were tight-lipped.
A Dacia spokesman who, the paper said, "sounded keen to avoid the subject" would only say: "We know that Top Gear is looking at a few things," adding, "but it's not necessarily us."
A Hyundai spokeswoman said she didn't think her company was involved and a Proton rep said that because of changes in their lines, a selection by Top Gear would be unlikely.
Being picked by Top Gear can be a big boost for any car. The Cee'd's sales have gone up over 50 percent since 2010 when it was first used on the show. Now we're not saying that Top Gear was the only reason, but being on the show just about every week, with super celebrities in front of the eyeballs of 350 million people around the world can't hurt.
So it might seem a little bit surprising to some people that Kia didn't actually want the Cee'd to remain as the Reasonably Priced Car. They're launching a replacement model and, according to the Sunday Times, the company wants the Cee'd to be thought of as more "upmarket" and less budget.
• We all know that Top Gear, the TV show, is as solid as the Rock of Gibraltar – and Gibraltar is exactly where the program's host were filming this week. They were there to begin a challenge for the show's upcoming series – an epic drive from Gibraltar to London.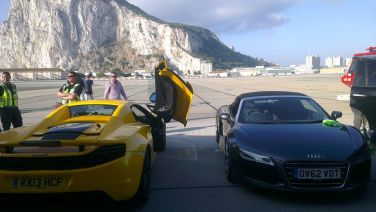 "With the picturesque Rock set as the backdrop, two super cars – a top of the range McLaren and Audi – shone in the sunlight as they were filmed being driven along the runway," reported the Gibraltar Chronicle.
Messrs. Clarkson, Hammond and May seemed to be having fun in Gibraltar and Spain as they prepared for their trip.
Clarkson even had a special section of the airport dedicated to him by an employee who is apparently a big fan. Jezza tweeted a photo:
Now that's what I call a welcome. pic.twitter.com/9dMR50GUa5

— Jeremy Clarkson (@JeremyClarkson) June 4, 2013
• When Top Gear magazine asks people to run, folks in the automotive world ask, "How fast?"
The latest example of this phenomenon happened when Top Gear asked the racing experts at Honda and Team Dynamics to come up with a faster lawn mower.
But this one's really fast. 130 miles an hour fast, to be exact.
In order to get to that speed, Honda swapped out a number of parts, putting in a motorcycle engine, a Morris Minor steering rack and racing tires, among other changes. And instead of the normal metal blades, two electric motors spin brake cables at about 4,000 cycles a minute to cut acres of grass in mere minutes – "that might be enough to slice through an entire tree," writes CNET.
This newest lawn mower/sports car hybrid, which is supposed to go from zero to 60 in just four seconds, spews flames out of its exhaust pipe.
TopGear.com got a first look.
"There's no scientific reason why we asked Honda to build this," Top Gear magazine senior road tester Piers Ward told BBC News. "The grass needed mowing and everything on the market seemed a bit slow. Why take an hour to mow a football pitch when you can do it in five minutes?"
If it operates anywhere near its estimated maximum 130 mile an hour speed, the mower will break the speed record for lawn mowers – 96.5 miles per hour – set by American Bobby Cleveland on Utah's Bonneville Salt Flats in 2010. We didn't see a whole lot of grass there, though:
Still, reports BBC News, the new Honda won't be eligible to race in the famed British Lawn Mower Racing Association world championships because all the modifications disqualify it for competition. The BLMRA began its races in West Sussex in 1973 and has included actual Formula 1 racers and even the late actor Oliver Reed.
• Top Gear Live is returning to Durban, South Africa on June 15 and 16. Last year, the show broke a world record there by doing a double loop-the-loop.
As we reported recently, Richard's thrilled about going back, considering South Africa his "second home."
But how do Jeremy and James feel about it? Here's a promo they've done:

Top Gear Festival South Africa 2013 by arthurcharlesvanwyk
• It turns out that Top Gear's love of South Africa is requited. Top Gear South Africa magazine has been voted the country's coolest magazine. The accolade came from a Sunday Times Generation Next youth brand survey, in which more than 6000 young South Africans voted.
Read More