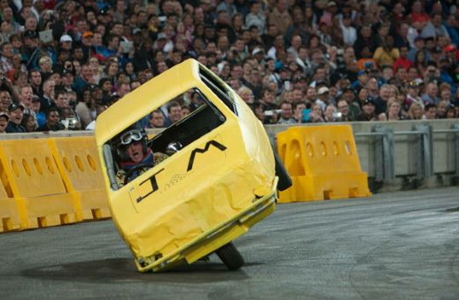 As the anticipation mounted among South African Top Gear fans for this past weekend's live Festival in Durban, the Motoring section of South Africa's Independent announced in a headline: "Usual Banter as Top Gear Trio Arrives."
Of course, the banter began before the three hosts even got to Durban, as Jeremy Clarkson tweeted several photos and joked about his colleagues:
Sadly though, there are two morons on the plane pic.twitter.com/w0piZEVYZG

— Jeremy Clarkson (@JeremyClarkson) June 12, 2013
The morons are on this plane as well. pic.twitter.com/MBXNvmS5HT

— Jeremy Clarkson (@JeremyClarkson) June 13, 2013
When Durban hosts the festival, the city closes roads around the stadium for racing. It means that while the improvised racing circuit is filled with fast cars, the regular traffic in the area is even more congested.
But the people of Durban seemed to understand that it was the price they have to pay for seeing former F1 champion Mika Hakkinen, South African radio personality Sasha Martinengo, and race driver, actor and car show presenter Gugu Zulu pitted against each other in bright yellow three wheeled vehicles known as tuk-tuks (see below).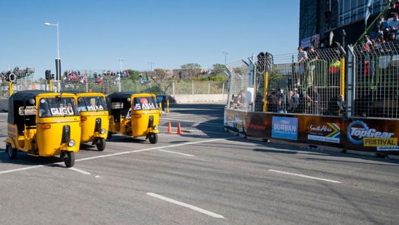 The antics continued at the Moses Mabhida Stadium, for which Jeremy had already tweeted his love.
The greatest stadium in the world. And our home for the next five days. pic.twitter.com/SkQ3Q72NkA

— Jeremy Clarkson (@JeremyClarkson) June 13, 2013
The three hosts entered the stadium on a large moving stage that was, writes TopGear.com, "quite fittingly powered by a V8 engine. They even gave it a good rev just to prove that, before indulging in some donuts."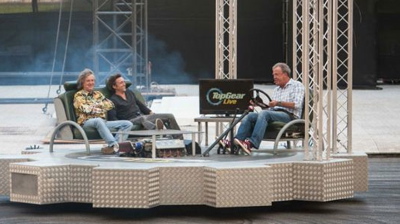 The Independent's Motoring section further described the event: "Jeremy was his usual cocky self, quipping that Richard Hammond was "just a helmet with feet sticking out"; that James only joined Top Gear from the second season because it took him that long to drive to the studio."
Here's a YouTube montage of the Festival:
And here's a clip of Jeremy, James, Richard and The Stig in a Reliant Robin race:
• Here's an interesting item from Jalopnik, a blast-from-the-past Top Gear clip. It's sort of a cross-cultural look at the difficulties of transporting a newly-purchased car across the Atlantic. In the 1992 video, Jeremy Clarkson goes to Florida, which at the time, was the fifth most popular vacation destination for British travelers. Why? In addition to the sun and beaches, it was a popular place for Brits to buy American cars for very little money. And despite problems such as British import charges and taxes and left-side drive, there was an incredible demand among British used car tourists because the cars still ended up being cheap for Britons.
Jeremy talks to one car dealer who tells him that British consumers are so savvy at buying cars that it's like they've "got more moves than John Travolta." (He's referring to the star's role in Saturday Night Fever, of course.)
Jalopnik brought this up because folks over there are angry that it's apparently still so much easier for British car buyers to take American cars back home than it is for Americans to buy cars in the U.K. and bring them back to the U.S.
"If I want to import a British car" writes Jalopnik's Michael Ballaban, "I need to either wait 25 years until both me and the car are elderly and frail, or I need to jump through a billion (I checked, it's a billion, though it may be a billion and one) hoops."
Ballaban concludes: "I give up. I'm moving to the U.K., circa 1992. Everything's better there."
Read More
Filed Under: