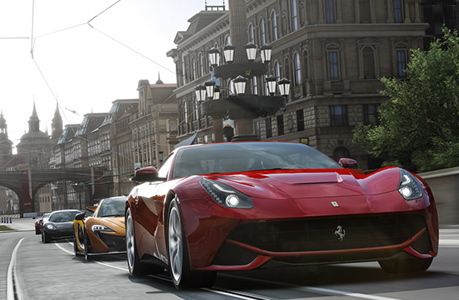 Jeremy Clarkson, Richard Hammond and James May will all be featured in Forza Motorsport 5, the newest version of the hit video game.
Clarkson's voice was used in Forza 4, but all three of the Top Gear presenters will be in No. 5. Forza 5 is a prominent launch title on Microsoft's latest version of the Xbox game console, Xbox One, which will be released in November.
It's unclear exactly what the triumvirate's new role will be, Turn 10 lead designer Bill Giese told Joystiq.
"I can tell you all three hosts are involved, they're going to give us some awesome structure in how we present our career to players," Giese said. "We'll be announcing a little bit more about that this summer, but we're super excited to have all three hosts this time."
There's no word yet on The Stig. We can pretty safely predict he won't be talking in the game, though.
Turn 10's Dan Greenawalt gave IGN an extended preview of the game at the E3 tech conference, where Microsoft also introduced the Xbox One. Greenawalt said that technological innovations mean that Forza 5 will look and feel more realistic than any previous racing game.
"We're doing things in simulation here that are on the absolute cutting edge of science, not [just] in games," said Greenawalt.
• The Top Gear Festival brings the madness live to Durban, South Africa this weekend. In a statement last week, the city's mayor, James Nxumalo, said that Durban "has moved into top gear and we are already looking forward to the deafening sound of the revving engines, screeching tires and some nerve-wrecking stunts by the Top Gear team."
One local website put it even more strongly in the headline to a blog post: "You're Actually Being A Bad Child If You Don't Take Your Dad To The Top Gear Fest For Father's Day."
Here's a short video preview of the June 15-16 festival from the SABC, South Africa Broadcasting Corporation. You'll see they even tried to get information about the identity of The Stig. Good luck with that!
• We talk about Top Gear Thursday, but some parts of the world will be talking about Top Gear WEEK this summer, as several of BBC Worldwide's networks devote seven days of their programming schedules to the beloved program.
Top Gear Week is airing on BBC networks around the world Augst 19-26, says the Hollywood Reporter. Folks in, say, Asia or Poland, South Africa or Latin America, will be able to watch their favorite petrolheads for seven days straight (you might want to change your summer vacation destinations accordingly). They don't call it BBC Worldwide for nothing.
• If, after the spectacular car chases of Fast & Furious 6, you're already wanting more, you'll enjoy this news. You already knew that a No. 7 is in the works. What we're talking about here is the announcement of a movie version of the videogame Need for Speed. Ford has announced that it's building a 900 horsepower Mustang especially for the movie, which, TopGear.com points out, will be released in March of next year, the car's 50th anniversary.
Read More
Filed Under: