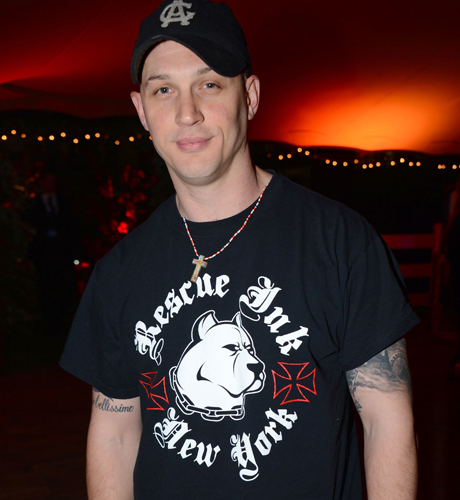 Tom Hardy isn't just playing an animal lover in the 2014 film, Animal Rescue, but is one in real life. Yup, he enjoys a cuddle with a cute pup but his appreciation for animals doesn't stop there.
Hardy's using his draw to put a spotlight on the abuses wildlife face in Africa as host and executive producer of the ITV documentary, currently entitled Poaching Wars with Tom Hardy, reports HollywoodReporter.com.
According to ITV, Hardy took it upon himself to travel to South Africa, Botswana and Tanzania to investigate the epidemic problem of animal poaching, like large-scale elephant slaughter.
"Tom Hardy's palpable concern and commitment to shedding light on what is happening and what the answers might be allow him to bring this reality home in a way that we believe will resonate powerfully with our audience," said ITV controller of factual Jo Clinton-Davis.
The documentary will be split up into two, 60-minute episodes.
On a lighter note, here's Hardy on the set of Animal Rescue getting cuddles:
Did you know Hardy had such a soft side?
Read More
Filed Under: