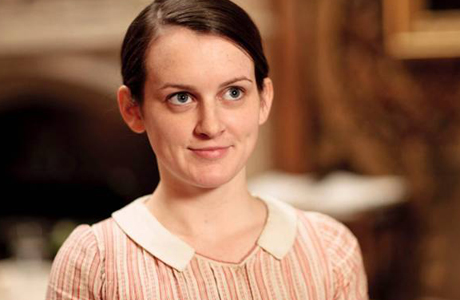 Downton Abbey's cast members are in demand, no matter whether still on the show or departed.
Hot on the heels of news that the hit British TV series' Hugh Bonneville is in discussions for a sizable role in a movie about Paddington Bear comes word that two other Downtonites, Dan Stevens and Sophie McShera, have new movie deals.
Stevens, of course, is now a former Downton cast member. To the noisy displeasure of millions of fans worldwide, the actor opted to leave the show last year at the end of his contract to pursue films and stage work. (Spoiler: his character, Matthew Crawley, was killed off in Season Three's finale.)
He's forging ahead on that new career. Variety reports that Stevens has just agreed to star in The Guest, an indie film that's described as a dark drama. The director is horror veteran Adam Wingard and the screenwriter is Simon Barrett, who previously collaborated on V/H/S, You're Next and other low-budget chillers. Shooting is slated to start late this summer.
Stevens' most recent film, a British period romantic drama called Summer in February, opens this weekend in the U.K.  It has yet to land an American distributor.
Sophie McShera, who plays kitchen helper Daisy on Downton, will be getting her mean on soon. The Hollywood Reporter broke the story that the actress is in negotiations to portray a wicked stepsister in director Kenneth Branagh's live-action movie version of Cinderella.
The film will feature Lily James–she showed up on Downton late last season as misbehaving Cousin Rose–as the title character and is scheduled to begin shooting in London in the fall.
In other Downton-related news, Rob James-Collier, who plays conniving servant Thomas on the show, made waves when he showed up with a shaved head over the weekend at an industry event in Los Angeles promoting the series. The Mirror speculated that the actor might have gone short for a plot development on Downton's fourth season, which is currently filming, but had no actual reporting to confirm that, nor did any other publication. At this point, the reason for James-Collier's brave new look remains a mystery.
Do you have a favorite character? 
Read More
Filed Under: