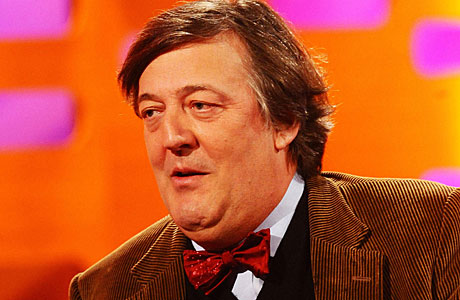 Public confessions from celebrities are often troublesome to process. Quite apart from the issue of whether it feels appropriate to lay bare your personal life in public – or for private affairs to be used as part of a performance – as an audience we often feel that we know the person involved intimately, and have already projected onto them our own perception of how happy they must be, and how fulfilling their lives must feel. Often this is a point of comparison with our own lives, in which the pain and struggle that we've conveniently edited out of their lives are impossible to overlook.
So, to put it bluntly, where there's a confession, there's a corresponding question: "but how can you be sad? You're YOU!"
Which must, to the star in question, feel like a peculiar form of guilt, like letting your school down, years after graduation.
And even when the person in question is Stephen Fry, beloved broadcaster, campaigning wit and all round admirable cove with a well-publicised history of mental health issues, to hear him calmly and reassuringly describe a suicide attempt last year, driven by the curlicues of despair his bipolar disorder creates, it does take a while to reign in the automatic urge to delve further in, to ask intrusive questions, to demand to know what the bloody hell he thought he was doing.
But here's the thing. Stephen's 'confession,' which has been a big part of the news schedules in Britain since yesterday afternoon, isn't a tear-stained beg for forgiveness at a press conference, it wasn't even a planned news event. Stephen was being interviewed by the comedian Richard Herring as part of a series of comedy podcasts. The Richard Herring Leicester Square Theatre Podcast is a daft, irreverent affair, peppered with preposterous questions and gratuitously disgusting flights of fancy – a Herring speciality. It's also fantastic fun.
And in the midst of this deliberate nonsense, Stephen calmly and quietly chose to describe the best and worst aspects of his bipolar disorder, including an attempted overdose while filming a documentary last year – "a close-run thing" – that left him hospitalised with broken ribs.
http://www.youtube.com/watch?v=e8_0O7azP4E
He said: "I am the victim of my own moods, more than most people are perhaps, in as much as I have a condition which requires me to take medication so that I don't get either too hyper or too depressed to the point of suicide.
"I would go as far as to tell you that I attempted it last year, so I'm not always happy – this is the first time I've said this in public, but I might as well. I'm president of Mind, and the whole point in my role, as I see it, is not to be shy and to be forthcoming about the morbidity and genuine nature of the likelihood of death amongst people with certain mood disorders."
"I took a huge number of pills with a huge number of vodkas, and the mixture of it made my body convulse, so much that I broke four ribs, but I was still unconscious.
"Fortunately, the producer I was filming with at the time came into the hotel room and I was found in a sort of unconscious state and taken back to England and looked after."
And for anyone asking the question why he would feel like that, as he is, y'know, Stephen bloody Fry, he offered this frank dissection of the situation: "There is no 'why', it's not the right question. There's no reason. If there were a reason for it, you could reason someone out of it, and you could tell them why they shouldn't take their own life."
He later went on to further outline the full span of his emotive life with bipolar disorder:
"If unmedicated, there are times when I am so exuberant, so hyper, that I can go three or four nights without sleeping and I'm writing and I'm doing stuff and I'm so grandiose and so full of self-belief that it's almost impossible to deal with me. I can't stop speaking, I'm incredible, I go on shopping sprees."
But: "There are times when I'm doing QI and I'm going, 'Ha ha, yeah, yeah,' and inside I'm going 'I want to fucking die. I … want … to … fucking … die.'"
Yesterday, Stephen tweeted an explanation for this sudden revelation:  "Thank you all for your concern. As Pres of @mindcharity I could only tell truth if asked directly. Now fine. On good meds. Love to you all x"
Richard Herring's Leicester Square Theatre Podcasts are available from Go Faster Stripe.
Read More
Filed Under: