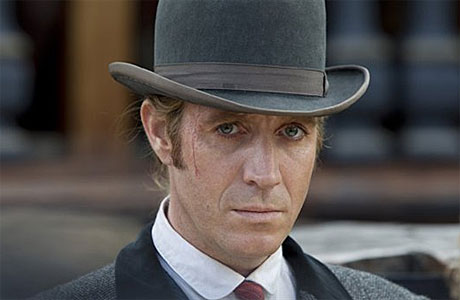 The glorious thing about there being so many different versions of Sherlock Holmes doing the rounds at the moment is that you get to see how each production sees the same characters, and which actors they've wheeled in to flesh out the roles.
So, in Sherlock, they have an oily, cold-hearted Mycroft Holmes, a puppet master which is occasionally thwarted by his brother Sherlock, but tends to believe he has the upper hand at all times. For a man like that, you need the thin lips and blank eyes of Mark Gatiss. In the Robert Downey Jr Holmes franchise, Stephen Fry is Mycroft, a more genial, Oscar Wildish figure: every bit as smart, but less uptight.
And now Elementary, the hugely-successful CBS reswizzle of the Holmes mythology that stars Jonny Lee Miller, has brought in Rhys Ifans, a British character actor who could play Mycroft as viciously cold as Mark (as he did playing Peter Cook in Channel 4's Not Only But Always):
Or as louche as Stephen, as he did in Mr Nice:
Rhys is set to appear in the first episode of the second season – set for return on September 26 –  in which the scathing detective takes a break from New York and revisits his old haunts in London, including his flat in Baker Street, the one above 221A.
Robert Doherty, creator of the show, told Radio Times that the cast and crew are all very excited to be bringing a new Mycroft to life: "I could not be more excited to have Rhys coming aboard. I've always been a tremendous fan and feel very honoured to have him in the fold.
"Equally excited are Jonny and Lucy, both of whom have worked with Rhys in feature films [with Jonny in Love, Honour & Obey, and with Lucy in Hotel]. I think this is going to be a lot of fun for all of us."
He means us as well, I think.
Read More
Filed Under: