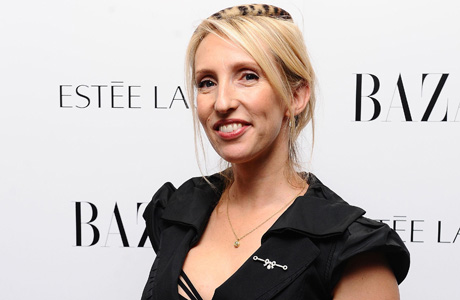 People have been talking about who is going to direct and star in the film adaptation of E.L. James' Fifty Shades of Grey for over a year now. Just today, Universal Pictures and Focus Features announced that Sam Taylor-Johnson (Nowhere Boy) is confirmed to direct.
"Sam's unique ability to gracefully showcase complex relationships dealing with love, emotion and sexual chemistry make her the ideal director to bring Christian and Anastasia's relationship to life," said producer Michael De Luca in a press release. "E.L. James' characters and vivid storytelling require a director who is willing to take risks and push the envelope where needed and Sam is a natural fit."
The last film she directed was Nowhere Boy, which told the intimate story of The Beatles' John Lennon (Aaron Johnson) growing up in Liverpool. Taylor-Johnson, 43, met her now husband, Kick-Ass actor Aaron Johnson, 23, (now Aaron Taylor-Johnson) on the set of Nowhere Boy. The couple has two children together.
Taylor-Johnson is keen to accept the position, saying, "I am excited to be charged with the evolution of Fifty Shades of Grey from page to screen. For the legions of fans, I want to say that I will honor the power of Erika's book and the characters of Christian and Anastasia. They are under my skin too."
Fifty Shades follows the relationship of 27-year-old billionaire Christian Grey and college student Anastasia Steele.
Who should be cast as Christian Grey? 
Read More
Filed Under: