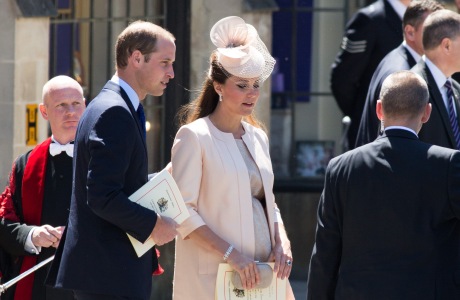 It is no secret that Britain is currently awaiting an addition to the royal family. The Duke and Duchess of Cambridge are expecting their first child to be born sometime in the next month, and the rest of the world is waiting patiently with them.
When the time comes, the royal child is expected to be delivered in the private Lindo Wing of Saint Mary's Hospital in Paddington, West London. Prince William and Prince Harry were delivered in the same hospital when their mother, Princess Diana, gave birth.
Buckingham Palace has an official website as well as various social media networks now, something it lacked when Princess Diana and Prince Charles welcomed Prince William into the world. Despite these new, quicker channels of information dispensation, it is likely that tradition will persevere and the first announcement of the royal birth will appear on an easel attached to the railings of Buckingham Palace, as is customary for royal births and deaths. The BBC has a history of "How Royal Births Have Been Announced" here.
Home Secretaries used to attend royal births, as did the Archbishop of Canterbury. Also, did you know that the royal baby need not have a surname? BBC has more curious things about the royal birth here.
It is expected that an official family portrait of the Duke and Duchess and their new child will be taken after the baby is born. Marcus Adams captured two generations of royal children from 1926 to 1956, including photos of the Queen in her infancy in 1927 and Prince Charles in 1954.
Read More
Filed Under: