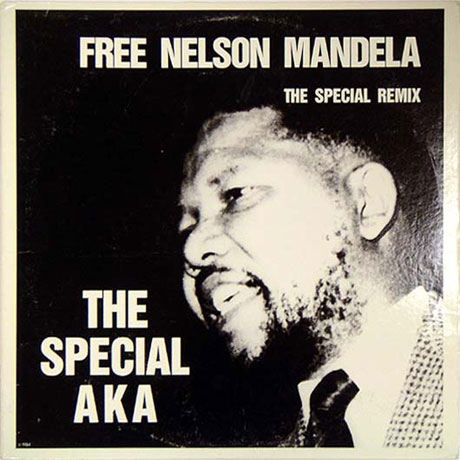 Former South African president Nelson Mandela, 94, is currently critically ill in a hospital in Pretoria. He has been attempting to fight off a recurring lung infection, which has left him struggling to breathe unaided. Already his official spokesman has urged supporters not to hold out "false hopes" of a full recovery, and prepare for the worst.
If they should turn out to be correct, his political legacy, his potency as totemic figure of unyielding principle against an unforgiving and racist regime, will be discussed and debated on TV news shows across the world.
And when that happens, I would be most surprised if any of them neglected to play the Special AKA song "Nelson Mandela" (or "Free Nelson Mandela," if you bought the single) at some point. Even in countries where this 1984 single wasn't a hit — No. 6 in the U.K. charts — the effervescent joy of this most demanding of protest songs is so closely aligned with with hard-won public geniality of the man himself that the two appear impossible to separate.
And that's a remarkable thing, given that the song was constructed in the midst of a period of high stress and confusion within the Special AKA camp, one that lasted more than three years.
In 1981, when they were still known as The Specials and enjoying a No. 1 single with the literally dread-full "Ghost Town," the band's three singers, Terry Hall, Lynval Golding and Neville Staples decided to go their own way and formed Fun Boy 3. This, together with songwriter Jerry Dammers' move into creating deeply challenging songs about rape, racism and domestic violence, across some unusual time signatures too, meant a steep decline in the band's fanbase.
Sessions for the battered collective's third album In The Studio were pock-marked with rows and stormings-off. Guest musicians were brought in, founder members would strop off, and the songs were, in the main, a tough listen. Protest music in the classical sense, where the misery of the subject matter is met and matched by the oppressive nature of the music itself.
Even "Nelson Mandela," the exception and glowing gem of warmth and welcome in the middle of a musical war-zone, was afflicted with strife and turmoil. On one hand, Lynval Golding, having split from Fun Boy 3, appeared in the studio to help record it, as did Dave Wakeling and Ranking Roger from The (English) Beat. On the other, singer Stan Campbell walked out of the band just after recording his lead vocal, and then had to be cajoled into making TV appearances and filming the video, before once again striding off into the sunset.
The point being, an angry song about a political prisoner in South Africa, held captive for 21 years (at the time of writing), and written and performed by a bunch of chippy former pop stars who appeared hellbent on throwing their success back in the faces of their fans, has no business being this happy, this celebratory, and this powerful.
And this was no broadside at the state of things, like "Only A Pawn In Their Game," and no unspecific response to a totalitarian threat, like "We Shall Overcome," this is one very specific demand, for one very specific outcome, taking all of its weight and substance from the irresistible force of pop music.
To a generation of British kids who had never heard of him before "Free Nelson Mandela" is all they ever needed to know about the man. Fittingly, Jerry Dammers, who wrote the song, had no idea who he was until he attended an anti-apartheid concert in 1983. Had he then come up with something more hectoring or angry, it's possible the anti-apartheid movement would have had a very different level of support throughout the 1980s. Certainly in South Africa the song was seized upon as an instant anthem for the African National Congress.
And when Paul Simon released Graceland three years later, recording with South African musicians and almost accidentally blundering into the global debate about apartheid, guess who was picketing his London concerts for breaking the UN cultural embargo? Jerry Dammers. More bickering, more aggression, more anger, and yet the music remains potent, uplifting and joyful.
And what's most interesting is that when Nelson Mandela was finally released in 1990, and then became president in 1994, he effectively assimilated these qualities into himself. A powerful leader, yes, but also a symbol of hope: a victory for the good guys.
"Free Nelson Mandela?" "Oh, you have."
Which just goes to show that expression about honey and vinegar isn't just for use when making a cake.
Read More
Filed Under: