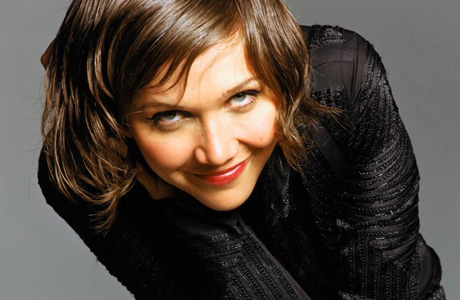 We recently did a post on British actors portraying Americans. Well, it goes both ways. Maggie Gyllenhaal (The Dark Knight Rises) is set to star in the BBC2 drama The Honourable Woman portraying a British life peer named Nessa Stein. The story revolves around the Israeli-Palestinian conflict. It will broadcast  on both BBC2 and the Sundance Channel in the U.S.
Gyllenhaal has been all over American talk shows just this week promoting her role in the forthcoming film White House Down starring opposite Channing Tatum and Jamie Foxx. She can get plenty of roles stateside but … chooses UK television at the moment.
When asked about her new role she said, "I couldn't put the scripts down. Nessa is such an exciting and intricate character. I can't wait to begin filming," reports Radio Times.
Gyllenhall has a very unhurried way about her. She seems very thoughtful when speaking and in her acting. We have a feeling she can pull this off and us as viewers will be able to forget that she is indeed American.
There are a number of American actresses who have stepped into British roles, some more successful than others, including but not limited to Natalie Portman and Scarlett Johansson (The Other Boleyn Girl), Gwyneth Paltrow (Shakespeare in Love, Emma, Sliding Doors … this space isn't big enough for all of her Brit roles ), Frances McDormand (Miss Pettigrew Lives for a Day), Renee Zellweger (Bridget Jones's Diary), Anne Hathaway (Becoming Jane), Meryl Steep (The Iron Lady).
Do you have a best and worst from the above list?
Read More
Filed Under: