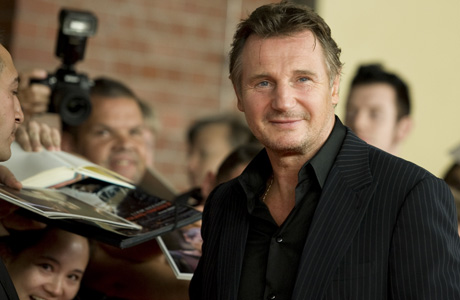 Liam Neeson needs to take a big breath. He'll want all that air if he expects to blow out all 60 candles on his birthday cake. Make that 61 if his friends and family add an extra candle for him wish on atop the cake.
Yes, Neeson, the Irish-born actor whose star is shining more brightly than ever thanks to his success as an action hero in Taken (2008) and several follow-up run-and-gun movies, turns 60 today (June 7).
He has been appearing in films for more than half his lifetime, becoming a genuine major Hollywood leading man when Steven Spielbergcast him in the title role in Schindler's List in 1993. In the years that have followed, he has worked with such eminent directors as Woody Allen in Before and After (1996), George Lucas in Star Wars: Episode 1 – The Phantom Menace (1999), Martin Scorsese in Gangs of New York (2002) and Christopher Nolan in Batman Begins (2005) and The Dark Knight Rises (2012).
And let's not forget that when Hollywood needed a voice of God, or at last a voice for Aslan, the lion that is the stand-in for a deity in theNarnia films, who did it go to? Neeson, of course.
As a salute to Neeson as he enters his seventh decade, here in chronological order are five of his films that are must watching for any true blue fan:
Crossing the Line (also known as The Big Man) (1990) In one of his early starring roles, Neeson plays a Scotsman who turns to bare knuckle boxing after losing his job in a coal mine due to British prime minister Margaret Thatcher's economic reforms. Neeson's strong performance–he was an amateur boxer himself before taking up acting–impressed critics more than the movie itself. The movie is also notable for early appearances by several now well-known actors, including Hugh Grant, Billy Connolly, Peter Mullan and Douglas Henshall.
Schindler's List (1993) In Spielberg's Oscar-winning film, Neeson brought gravitas and moral strength to his portrayal of Oskar Schindler, a German-Czech businessman who saved the lives of more than 1,000 Jews during the Nazi era in Poland, where he operated a factory. Neeson was nominated–his only nomination so far–for an Academy Award for Best Actor for his performance.
Nell (1994) No one has ever claimed this drama, about a doctor and his wife (Neeson and real life wife Natasha Richardson) who care for a young woman (Jodie Foster) discovered living in the woods, is an especially worthy movie but it marks the only time that Neeson and Richardson shared the big screen. (Richardson, who had two now teenage sons with Neeson, tragically died at age 45 in 2009 from a head injury sustained in a fall while learning to ski.)
Rob Roy (1995) In this stirring historical adventure, Neeson rode horses and swung a mighty sword as 18th century Scottish outlaw Rob Roy MacGregor. The film proved a hit, but was overshadowed by another Scottish historical epic, Braveheart. The latter came out the same year, starred Mel Gibson in a kilt and blue war paint, and went on to win the Oscar for Best Picture.
The Grey (2011) It's Neeson versus the elements and some very hungry wolves in this involving adventure drama set in chilly Alaska. Playing an oil worker attempting to survive after a plane crash, Neeson once again brought grit, depth and a sense of humanity to what on paper seemed like just another generic, stoic action hero.
What's your favorite Liam Neeson movie?
Read More
Filed Under: