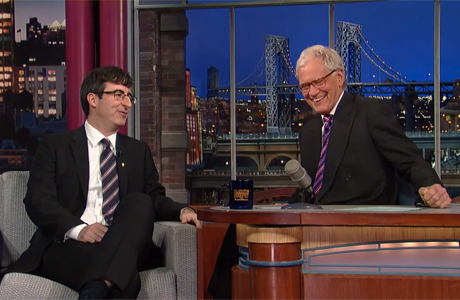 British Daily Show correspondent John Oliver is just a wee bit nervous about temporarily taking over the show's hosting duties from the esteemed Jon Stewart, who's off directing his first movie this summer. Hey, what's there to screw up, John? The show's only watched by 2.5 million loyal viewers on Comedy Central every night, is the winner of 10 Outstanding Variety Show Emmys in a row, and has been called "the only news show you need to watch." No need for any pressure, right?
"I'm British, so obviously I repress any powerful emotions of any kind in relation to anything," he told The New York Times. "I don't think it's going to hit me until I sit down at the desk and the music starts. That's probably where there will be a couple of seconds of panic."
Oliver — whose been making the rounds in promotion of his new three-month gig, which starts Monday (June 10) — stopped by The Late Show with David Letterman to seek some advice from the master. The comedian admitted to Letterman that he's a bit daunted by the task at hand: "[The Daily Show] is an American institution, and I just have to try not to destroy it."
He can fall back on ages of institutional knowledge at The Daily Show. "I've been there seven years," he said, "so I do know structurally how to make the show and how to present it."
But he added: "What I don't know is how to interview actors. My training in interviews is to make fun of people, so I don't know how to talk to an actor whose movie I've not seen."
Here's Letterman's amusing response:
http://www.youtube.com/watch?v=mQIbogP5Wes&feature=youtube_gdata
Are you looking forward to John Oliver on The Daily Show?
Read More
Filed Under: