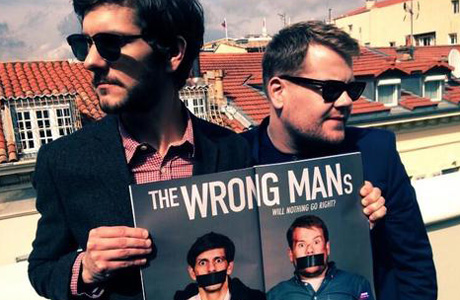 Co-creators James Corden and Mathew Baynton announced back in October 2012 that the two would be collaborating on a comedy thriller, entitled The Wrong Mans, to start filming in January 2013. Well, it's June, and post-production has just finished. The show will air on BBC2 in the UK and online via Hulu available Fall 2013.
The story revolves around two "idiot" office mates, yup, you guessed it, Corden and Baynton, with the story kicking off when Baynton's character witnesses a car accident. He's interviewed by the police and after they leave, he inadvertently answers a ringing phone at the scene of the crime where he's told, "If you are not here by 5 o'clock we will kill your wife."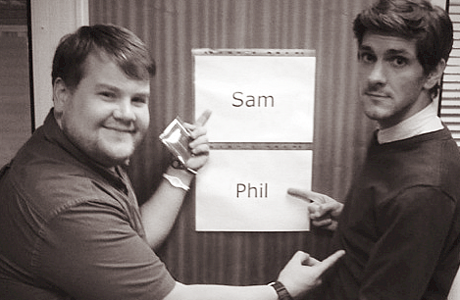 Baynton recently had a chat with Radio Times explaining why comedy thrillers aren't done so often, saying, "When we started writing it, we realised why people don't do that. It was really hard to write! A lot of man hours just working out plot. Everything has to be taut, moving on at the right pace."
Baynton and Corden take two ordinary guys and put them in an extraordinary situation. Baynton does an amazing job at painting the picture, telling RT, "We always talked about if Jason Bourne got a phone call because there was going to be an assassination attempt on the President and he was the only person who could stop it, but he'd left his phone in the toilet and the cleaner picks it up, what then? That's essentially the premise. Something has to be done, it's just the wrong guy doing it."
The idea came from a casual chat between Baynton and Corden, who have been mates since 2007 and worked together on Gavin and Stacey, and they sort of wondered why nobody attempts the level of story telling and "dramatic ambition" as seen in American TV shows like 24, Lost and Heroes.
While it proved difficult, the two got it down and here's a short teaser trailer:

What do you think of this hybrid genre?
Read More
Filed Under: