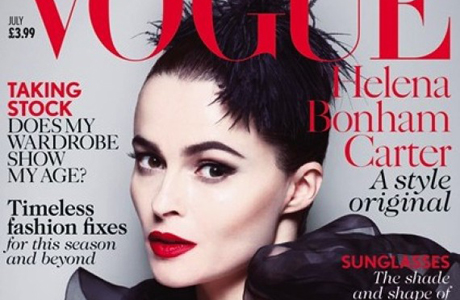 The July issue of Vogue UK, available on newsstands today (June 3), celebrates women who "transcend age" with their distinctive style with actress Helena Bonham Carter (The Lone Ranger; Les Misérables) blanketing the cover.
Vogue UK chose Carter, 47, as their cover star based on her having "long defied the norms of show-business with her own brand of theatrical, bohemian – and sometimes eccentric – glamour."
Carter talked to the mag about the benefits of playing different roles like refining her gun skills, saying, "And I learnt how to fire a double-barrelled shotgun from a prosthetic leg. It's frighteningly empowering firing a gun, you know? I'm afraid I learnt that too…"
She gave credit to her mom, who is a psychologist, when talking about the satisfaction of researching characters, saying, "The research is what I get off on. My mom is a psychologist and I'm very similar to her. I love the challenge of working a character out."
Carter explained the potential success of the movie is not a factor when choosing roles, saying, "Ultimately, I don't agree to do a film because I think it's going to be a success. I do it because I think I'm going to learn something from the character I'm playing."
Carter is set to play Elizabeth Taylor in an upcoming BBC film entitled, Burton & Taylor. She expects the take away to surpass financial or critical success, saying, "I know that, somehow, I'm going to grow as a soul from playing her."
Carter has two children, a boy and a girl, with director Tim Burton. Being a mum, and the responsibilities that come with that title, has given her perspective on the pressures of performing, saying, "I take myself so much less seriously than I used to. I used to be so self-critical, it was painful. Now I think, 'OK, so I acted badly today. I'll try and act better tomorrow.'"

What do you think of Vogue's cover choice?
Read More
Filed Under: