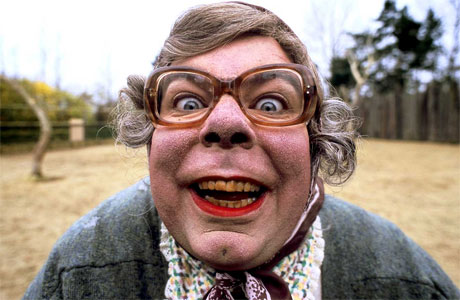 Whether you've heard of, or even seen, all five of the shows in this list before, you have to admit some British comedies are more demanding than others. This can often be to their benefit (who would have thought a stuffy comedy based in a stationery office would have created a worldwide hit?), although even the really good ones make a great show out of flirting with obscurity.
So, here are five shows – whole episodes where possible – that are definitely funny, but affect an air of not really caring whether you approve of them or not.
The Mighty Boosh
http://www.youtube.com/watch?v=tqt-LE8KXWE
This is what happens if you take the imagination of Monty Python or Spike Milligan, and make it groovy. Not fashionable or cool, that's not quite the aesthetic, the Boosh is peculiarly rooted in the sensibilities of the early '70s, despite having been make in the early '00s. Former zookeepers Vince Noir, the popinjay, and Howard Moon, delusional cynic – oddly aided by a mystic called Naboo the Inscrutible and Bollo, the gorilla – have a series of psychedelic adventures that are, actually, really hard to describe in words.
The League of Gentlemen
There have been a lot of comedies over the past few years that seek to make their audience squirm and laugh at the same time. Most often this is out of social embarrassment, because a character acts in a charmless or doltish fashion, but The League pilfered horror movie techniques to create a worryingly funny world of grotesques, where laughter and unease were never very far apart.
Garth Marenghi's Darkplace
(clips only, due to copyright issues)
http://www.youtube.com/watch?v=Wlj2DpfJnVg
While we're on horror-comedy (or 'horromedy'), this is a TV show about a pretend horror TV show from the early '80s, written by, and starring, a self-aggrandizing author called Garth Marenghi, and co-starring his agent (played by Richard Ayoade) as a very bad actor indeed. Amid the tremendously bad horror ideas, executed tremendously badly, there are interviews with the stars, there's a lot of TV hair, and there's an episode called "Skipper the Eye Child."
There was never a series two.
The Young Ones
http://www.youtube.com/watch?v=zBh8tdmN8pE
This was filmed in the actual early '80s, but with a punk attitude and an unwillingness to assimilate into the cozy showbiz world. Consequently The Young Ones became an enormous success with younger viewers, spawning two hit singles and an entire generation of alternative comedians. It didn't exactly do Rik Mayall and Adrian Edmonson's careers any harm either.
Rab C. Nesbitt
http://www.youtube.com/watch?v=Obqx1qNmmUU
Some challenges are not mental so much as aural. When Oasis were a bit deal in America, their interviews would often be accompanied by subtitles, so that Texans and New Jerseyites alike would have the first idea as to what the battling Gallagher brothers were talking about. Rab C. Nesbitt has a similar problem, only it is far trickier to interpret. It's the story of a loveable rogue, a rude, dirty, lazy, foul-mouthed, ribald alcoholic from Glasgow, and his shifty mates. And it was a hit! AND the show in which David Tennant played a transsexual.
Which is another level of challenge altogether…
Read More
Filed Under: